By Gayle Fee
Boston Herald
November 22, 2015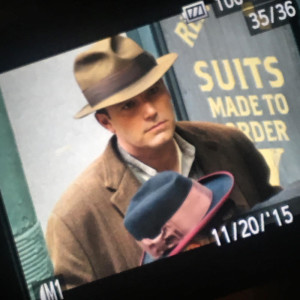 Boston is getting a throwback makeover courtesy of Ben Affleck and the "Live By Night" crew who blew into the North End on Friday and turned Margaret Street into a bustling 1920s-era neighborhood and is gettting ready to return the Boston Park Plaza hotel to its roots as The Statler Hotel for a shoot-out scene.
"It was awesome," said North End resident Jen Royle, who watched Affleck taping from the window of her mother's house at the corner of Margaret and Prince streets.
The neighborhood had been transformed by Hollywood's set magicians with vintage signs, antique cars, a horse and buggy and a bevy of extras in Prohibition-era costumes.
"There were kids running up and down the street, a shoe-shine guy, people sitting on stoops and old cars," Royle said.
Storefronts had been remade into a locksmith, tailor and violin shops and there were clotheslines draped across the alley with shirts hanging out to dry.
All of which was done for one brief moment on camera.
"Ben walked down the street and handed a guy some money like he was secretly tipping him," Royle said. "Then he goes to the door of a building that was made to look like a bar, a guy frisks him and he walks inside."
Affleck, who is starring as Joe Coughin, the son of a Boston cop who goes rogue and turns bootlegger, is also directing. So after each take he would walk back over to the camera and check the scene.
"He was all business," Royle said. "At one point when he was looking in the camera he said, 'Wow, the neighborhood looks amazing.' He seemed to be really enamored by the way Margaret Street looked. And it was pretty remarkable what they did."
Ben, who was wearing a brown fedora, a vintage suit and overcoat for the scene, called it a wrap around mid-afternoon, then he headed over to shoot a love scene at the Paul Revere statue. In that one, Affleck and his co-star Sienna Miller, who plays the bad-girl object of Coughlin's affection, Emma Gould, make out on the street for a bit.
"They did it about four or five times," said another rubbernecker. "Then it was over. There was a huge crowd watching, but they cleared them out when they started shooting. Then people started climbing over fences trying to take pictures."
Hopefully Miller, who played Johnny Depp's galpal Catherine Greig in the Whitey Bulger flick "Black Mass" and was then left on the cutting room floor, makes the final cut in this made-in-Boston flick!
Affleck & Co. are due to shoot a few more scenes in Boston, including one at the Park Plaza hotel — which was born as The Statler in 1927. Ben's character is involved in a shootout there, which lands him in prison and eventually to his departure from Boston for Florida.
"Live By Night" is based on the 2012 novel by Dorchester noir master Dennis Lehane. It is the second Lehane book Affleck has brought to the big screen. He made his directorial debut with "Gone Baby Gone" in 2007.