By Bryan Alexander
USA TODAY
November 18, 2015
It's impossible to miss the massive size difference between Dwayne "The Rock" Johnson (who is 6-foot-5, 265 pounds) and Kevin Hart (5-foot-4, 145 pounds) in photos from their upcoming comedy Central Intelligence.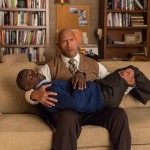 Johnson knew the physical pairing would bring automatic laughs.
"With the visual alone, we had a shot at grabbing people," says Johnson. "That visual is sizzle. And now we have deliver the steak."
That hunk of meat flips the traditional roles of smart-mouthed comic Hart and action star Johnson. Central Intelligence (in theaters June 17, 2016) features Hart as the stiff straight man and Johnson essentially carrying the comedic aspects. Even Hart says he was surprised when the concept was floated.
"I was like, 'Stop playing with me. DJ is going to be doing all the comedy? Really?' But I said, 'All right, can I talk to him?' " says Hart. "When I heard his take on it, it was a no-brainer. I said that we had to do it."
The comedy follows Bob (Johnson), who grew up being bullied as a nerdy, overweight kid but eventually blossomed physically and became a lethal CIA agent. Going to his 20th high school reunion, Bob runs into Calvin (Hart), a strait-laced accountant who had previously reigned as big man on campus.
When criminals try to frame Bob, he enlists the supremely reluctant Calvin to assist in a secret government mission to clear his name. Naturally, it puts the two directly into the line of fire, with Hart fussing and Johnson crushing.
For Hart, playing the popular kid at school was the natural part. "That was like playing myself back then, minus the good grades. I was a C-minus student, I can admit that."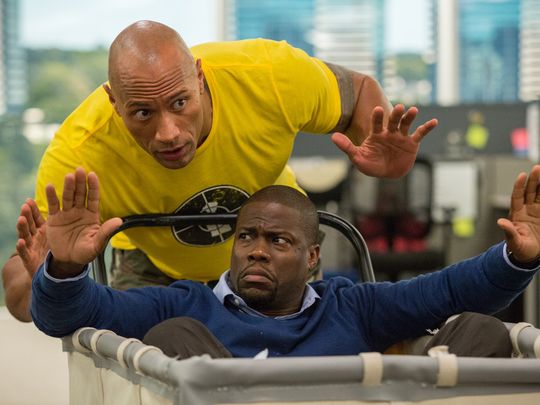 The difficult part was playing the humorless accountant. But each day on the Boston set this summer, Hart would put on slacks, button up his shirt and put a sweater on over that. Even harder was letting Johnson pump the comedy in each scene.
"There were moments I had to pull back when I wanted to be funny. But it wasn't my role in this film. That was his role," says Hart. "It's expanding the acting portfolio I am trying to build."
Director Rawson Marshall Thurber brought in Vine dancing sensation Sione Kelepi to portray Johnson as an exuberant high schooler grooving in the shower for a memorable scene. Johnson had to learn Kelepi's dance moves and his face was placed on Kelepi's body through Weta Digital effects.
Hart has nothing but praise for Johnson's sizable comedy chops. No special effects were needed for the numerous times Johnson had to lift Hart in gags.
"Lifting Kevin Hart, it's like lifting a beautiful woman," says Johnson. "Only, of course, it's not a beautiful woman."
"He's as big as you'd think he is, and he did a great job pulling the comedy off, making it believable," Hart adds. "But it's not like I'm going to be taking him on the road with me."