By Eoin Higgins
Berkshire Eagle
March 21, 2017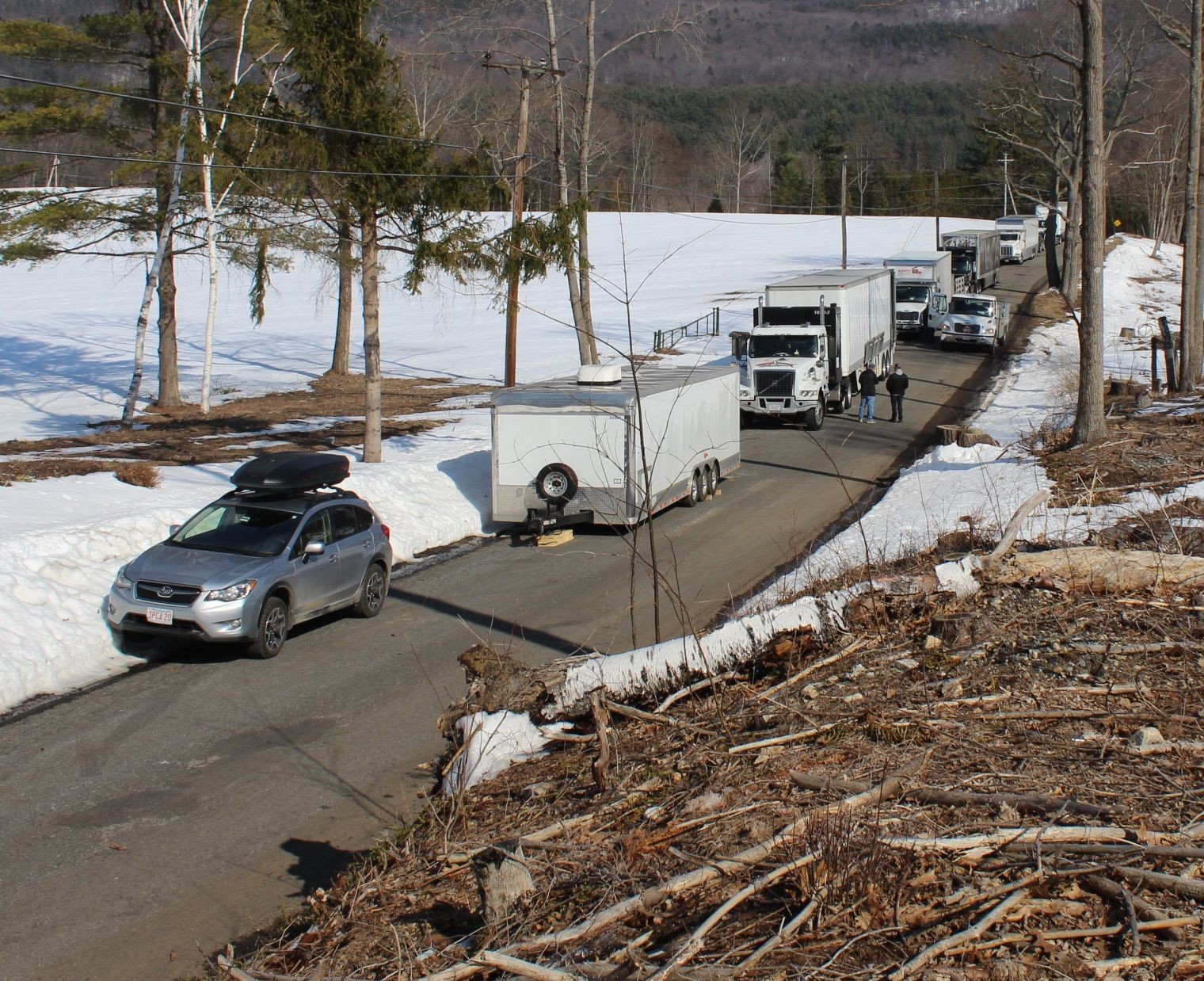 (Production trucks for Will Ferrell's "Daddy's Home 2" line Lover's Lane. The road will be closed through the week for production. PHOTO BY EOIN HIGGINS – THE BERKSHIRE EAGLE)
GREAT BARRINGTON — Paramount Pictures' "Daddy's Home 2" is filming on the east end of town for the next two weeks and people are feeling the impact of the production.
It's a good feeling.
"It's nice to have them here," said Butternut Ski Resort Director of Marketing and Sales Matt Sawyer. "They chose the Berkshires for their movie."
The film is shooting on Monument Valley Road. "Daddy's Home 2" stars Will Ferrell, Mark Wahlberg, Mel Gibson, Linda Cardellini, John Cena, and John Lithgow. It's the sequel to the hit 2015 film "Daddy's Home," which made over $240 million worldwide on a $69 million budget. Sean Anders, who wrote the script with John Morris, is directing the movie.
Lover's Lane has been closed for the duration of filming. The road connects Monument Valley Road to Route 7 and is being used as a staging area for production. Trucks lined the north side of the road on Tuesday afternoon.
Great Barrington Police Chief William Walsh was standing guard at the Monument Valley Road end of the lane.
"They've been great," said Walsh of the production crew.
In the nearby Edward J. Madden Open Hearts Camp at 240 Monument Valley Rd., caterers have set up tents for production lunch breaks.
The crew has its base camp at Ski Butternut in the northeast corner of the mountain's expansive parking lot. Last week's unexpected snowstorm on Mar. 14 made for a busy weekend and some difficult maneuvering to accommodate skiers and the film crew alike.
Trucks started arriving on Friday, Mar. 17, said Sawyer, and the resort's team had to send skiers' cars to the mountain's two alternative lots to the west of the property, including the seldom-used parking area by the upper lodge. It took some work, but everyone fit in comfortably.
"Typically the part of the lot they're in wouldn't even get used this time of year," Sawyer said.
Some of the film's talent were said to be staying at The Red Lion Inn in Stockbridge, but the inn's front desk denied those reports. The crew are staying in the Fairfield Inn & Suites Lenox Great Barrington/Berkshires at 249 Stockbridge Rd. in Great Barrington.
"We're almost fully booked up for the next two weeks," said Miranda Hosier, a hotel front desk clerk. "They're very nice."