By Jill Harmacinski
Eagle-Tribune
May 15, 2017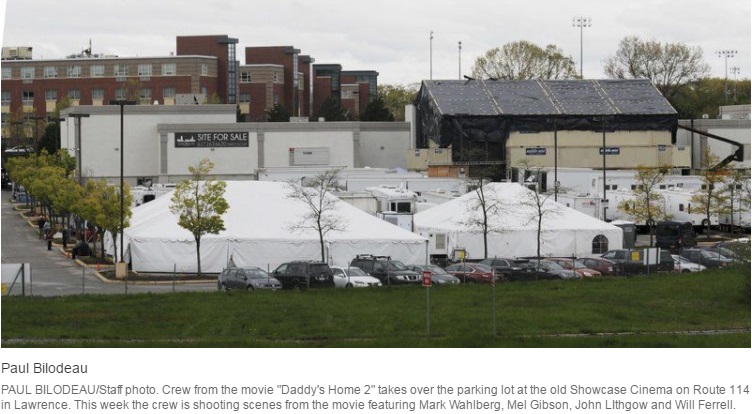 LAWRENCE — For decades, the Showcase Cinemas was where you went to see the movies. Now, a major motion picture is being shot there.
The shuttered Showcase Cinemas building off Interstate 495 is the backdrop for the comedy "Daddy's Home 2."
Hollywood actors Mark Wahlberg, Mel Gibson, John Lithgow and Will Ferrell are among those expected to visit to the city for filming at various times over the new two weeks, city officials said.
The Cinemas building is located off Winthrop Avenue (Route 114) behind Denny's restaurant.
The movie, the sequel to "Daddy's Home," is the latest film to be shot on location in The Immigrant City.
"Set location managers keep calling me and we are like, 'Let's do it,'" said Abel Vargas, the city's economic development director. "It's exciting and brings a lot of positive energy to the city."
The interior of the Showcase Cinema has been retrofitted for a "winter scene" for the film. Vargas said parking and accommodations for 250 people were needed at the site.
Set security and Lawrence police details officers were working in the cinema parking lot yesterday. Dozens of trucks, trailers and a catering service were also there.
Sources said rehearsals were underway Monday with star power set to arrive later in the week.
Wahlberg, Gibson, Lithgow and actor Will Ferrell have major roles in the film, which is set for release in November.
Wahlberg and Ferrell are returning as warring fathers in the comedy sequel, according to Variety magazine.
"Daddy's Home" grossed $240 million globally despite its release in 2015 in the shadow of "Star Wars: The Force Awakens," according to Variety.
It's also unclear how many local extras are being used in "Daddy's Home 2." In March, a casting call was held in Haverhill for the movie.
Anyone age 7 or older that was interested in being a movie extra was asked to attend the five-hour casting call held at the American Legion on Main Street.
An earlier casting call for the movie was held in Boston, said Slate Casting director Ashley Skomurski.
Movie filming in Lawrence is becoming nearly commonplace. "Daddy's Home 2" is the second movie filmed here in the past two months.
In April, actors Danny Glover, Billy Brown and Taraji Henson were in downtown Lawrence for the filming of the movie "Proud Mary."
Lawrence police Officer Terrence Pennington was also cast as a "thug" in the film.
Parts of "Proud Mary" were shot at 60 Island St. Henson plays an assassin who meets a young boy that sparks her maternal instinct, according to movie previews.
Production crews have been descending on Lawrence since the fall of 2015 when actor Ben Affleck came to Lawrence and used a variety of downtown settings and buildings to film "Live By Night."
That movie was based on a novel of the same name by Dennis Lehane, who is from Dorchester.
Affleck, who at one time lived in Dorchester, was the movie's main character, Joe Coughlin, the son of a Boston police captain who became an outlaw in 1926.
Last summer, downtown Lawrence was also the backdrop for a movie set in 1967 Detroit.
And a Netflix thriller, "Wheelman," was also shot in the city last fall. The old AAA building on Parker Street was used to film a bank robbery. A driving chase scene was also filmed on Methuen Street.
Vargas said the city has worked diligently to build a reputation with the film industry. The city does receive payment depending on what locations are used by crews, if local businesses are impacted and if streets need to be closed.
The Showcase Cinemas building being used for "Daddy's Home 2" opened in 1981 and closed in January 2016.
A veterinary hospital, medical office building and small retail building are planned for a similar Showcase Cinemas building on other other side of Winthrop Avenue that closed seven years ago.