By Marc Larocque
Enterprise
May 23, 2017
Hollywood movie magic came to a state park in Abington on Sunday. British-born star Sienna Miller and Mad Men actress Christina Hendricks were both spotted at Ames Nowell State Park in Abington.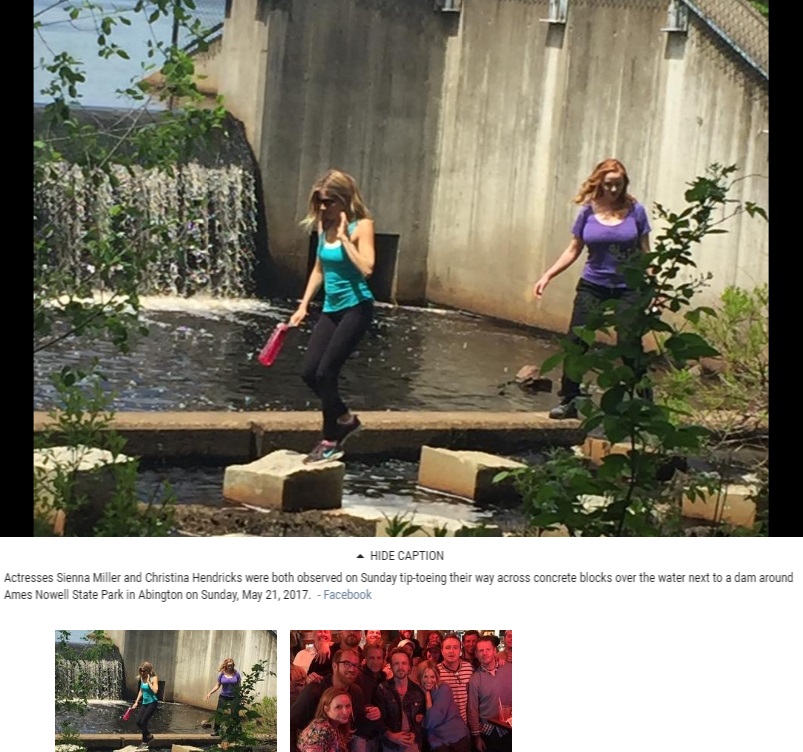 ABINGTON – Wildlife lovers at a state park in Abington were in for a star-studded surprise when they walked into "The Burning Woman" movie set over the weekend.
The Hollywood-produced movie starring Sienna Miller has been filming mostly in the Brockton area since April 24.
On Sunday, the British-born Miller, her co-star Christina Hendricks and the production crew behind "The Burning Woman" roamed outside of the city, taking the film outdoors at Ames Nowell State Park in neighboring Abington.
Miller and Hendricks were observed on Sunday tip-toeing their way across concrete blocks over the water next to a dam around the state park.
Will Sasso, the Canadian actor and comedian known for his work on MADtv, was also spotted at the state park working on the movie. Sasso took to Twitter on Monday, stating that this is the last week in the state for the "The Burning Woman" movie.
"It's our last week in Massachusetts shooting the film," Sasso wrote.
"The Burning Woman" is being described as a family drama in which Miller's character is left to pick up the pieces after her teenage daughter goes missing. Miller's character is left to take care of a grandchild, while also searching for the truth behind her daughter's disappearance, with the story taking place over the course of a dozen years.
Hendricks is playing the sister of Miller's character.
Miller and Hendricks have spent much of their time during the last four weeks on a small dead-end street on the north side of Brockton. At the end of that road is where their fictional homes were filmed, serving as a substitute for blue-collar Pennsylvania, where the story is based.
Last week, "The Burning Woman" filmed at a Trucchi's in West Bridgewater, another site in Canton, a football field in Ashland and Harry's Westgate Pub in Brockton.
This is the second time within the course of nine months that a Hollywood movie has been made in Brockton. In September, Oscar-winning director Kathryn Bigelow was in Brockton filming her upcoming release "Detroit," with the lead role played by star John Boyega.
"The Burning Woman film is also co-starring Aaron Paul, made famous for his work as Jesse Pinkman in the hit television series "Breaking Bad." On Sunday afternoon, Paul said on Twitter that he was already missing "The Burning Woman" cast and crew, after leaving the Brockton area before the final week of production.
"Missing this incredible group of people," Paul wrote. "Sending you lots of love for the final week of filming."