By Times Staff
Gloucester Times
June 26, 2017
German company returns to Rockport, Gloucester for filming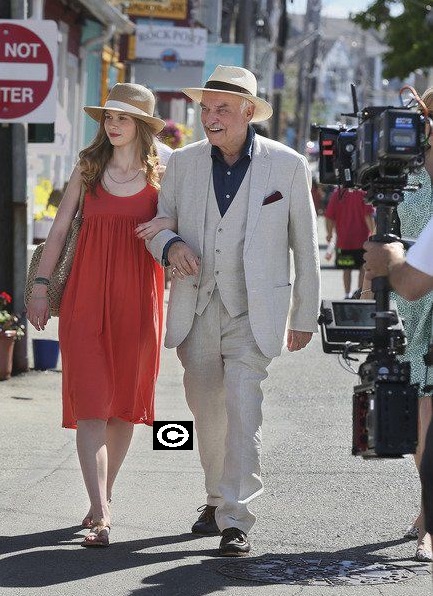 ROCKPORT — Rockport High School student musicians played jazz and a Rockport police officer had a cameo as a crew filmed a movie here Monday for a German television network.
The crew from production company Van Wormer International was filming scenes for the 33rd of its series of films based on the work of British romance novelist Katie Fforde for the network ZDF.
The movie, called "Home Alone Mom," stars Gesine Cukrowski as a mother whose headstrong daughter, played by Emilia Bernsdorf, has recently graduated from high school and is asserting her independence. Cukrowski and Bernsdorf filmed scenes on Front Beach in the morning and on Bearskin Neck in the afternoon. In the Bearskin Neck scene, they were joined by veteran German actor Charles Brauer, who played the father and grandfather of the two women.
Members of the Rockport High School Jazz Ensemble were hired to appear in a fictitious "Rowley Jazz Festival" set on Bearskin Neck. In one scene filmed at Donovan's Corner, they pretended to play their instruments while the three German actors stopped to listen. Rockport High band members participating were drummer Olivia Kendall, bassist Sam Crocker, pianist Sara King and recent graduate Kiva Trumbour, who usually sings but who played trumpet in the scene. Rockport police Officer Roger Lesch made a cameo appearance as a traffic cop.
The production crew will be in Gloucester on Tuesday, filming along Atlantic Road on the Back Shore in the morning and Stage Fort Park in the afternoon.