By Zane Razzaq
The Patriot Ledger
September 12, 2017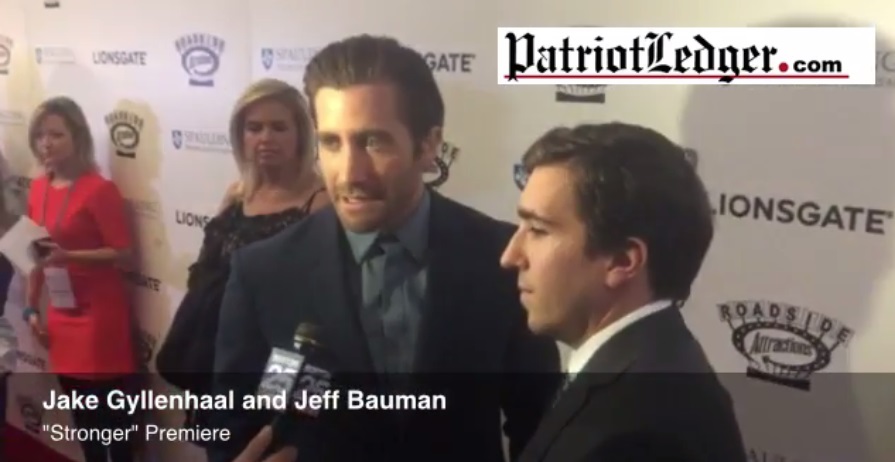 The film about Boston Marathon bombing survivor Jeffrey Bauman and starring Jake Gyllenhaal was filmed in Braintree, Weymouth, and Easton.
BOSTON – Boston Marathon bombing survivor Jeffrey Bauman's story came back home Tuesday night. "Stronger," the new movie based on his 2014 memoir of the same name, had its US premiere last night at Spaulding Rehabilitation Hospital in Charlestown, where Bauman and 31 other survivors were treated.
The South Shore plays a starring role in director David Gordon Green's film, with much of the film shot in the area last spring. The marathon finish line was recreated on an unused runway at Union Point, the former South Weymouth Naval Air Station. Scenes were also shot in and around the Skyline Drive neighborhood in Braintree and at Buddy's Union Villa, a bar and grill in Easton.
The cast and crew said filming in the area kept the film credible.
"You could not have shot this film anywhere but in Massachusetts to get that energy," said writer John Pollono.
Executive producer Todd Lieberman agreed, saying it was "essential to us to shoot on location."
"It really came down to authenticity for us," said Lieberman.
In the film, Jake Gyllenhaal portrays Bauman, who lost both his legs in the 2013 bombing. On April 15, 2013, three people were killed in the Boston Marathon attacks, and more than 260 were injured. Sean Collier, an MIT police officer who once worked in Hull, was shot and killed by the bombers three days later.
Gyllenhaal and Bauman developed a close relationship while filming.
"Often times, when he (Bauman) talks, he's so open, he's so warm. He doesn't say as much as I do, because I love to hear myself talk… it was a really interesting journey, learning all that about him," said Gyllenhaal.
"Understanding what it felt like and trying to put myself in that mind set is close to impossible… there's nothing I can ever do to figure that out," said Gyllenhaal.
Bauman said the hospital, where he underwent months of grueling physical therapy, was an important space for him.
"For over a year and a half, I was here as an outpatient… it's really cool that the premiere is here. I'm so proud to be here," said Bauman.
Other recognizable faces at the premiere were Celtic players Gordon Hayward and Al Horford, former Miss Universe Amelia Vega, Lenny Clarke, who plays Bauman's uncle in the movie, and hospital namesake Joe Spaulding.
Pollono, originally from Londonderry, NH, said Bauman's tendency to avoid talking to his family members about his struggle is a quintessential New England quality.
"It was key to his character for me… 'I'm going to be okay, don't worry about it'. That's a regional thing, that's how a lot of us are. He's protecting everybody else," said Pollono.
Tatiana Maslany ("Orphan Black") plays Erin Hurley, Bauman's then-girlfriend, in the film. Hurley called watching the film for the first time emotional.
"It was very hard for me to relive certain moments during the past two years. But overall I've been very happy with the movie, I think they did a beautiful job," said Hurley.
"Stronger" opens at theaters Friday, Sept. 22.