By Jared Robinson & Staff Reporter
Athol Daily News
December 14, 2017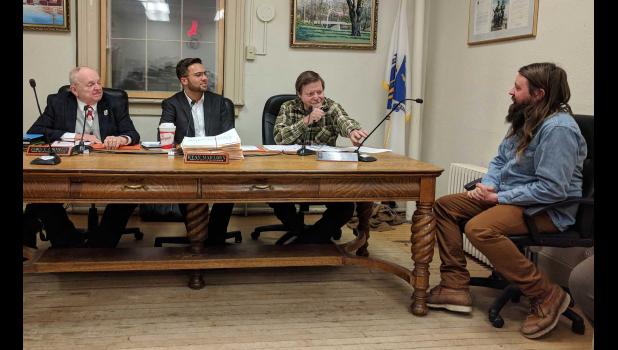 Hulu television series is (almost) a wrap
ORANGE — Alex Berard, assistant location manager for Olive Avenue Productions, updated the selectboard Wednesday night on the final filming of scenes for "Castle Rock," the Stephen King-inspired television series that has been filming in town for Hulu.
Berard said only two more days are needed for principal photography, currently slated for Tuesday, Dec. 19, and Wednesday, Dec. 20. However, he noted should inclement weather be an issue, those days will be pushed forward one day each.
While the final day will not be much of an interruption, with the crew only needing a small section of Water Street in front of the fire station, Tuesday will be a significant disruption for the town as the South Main Street bridge will need to be closed from 8 a.m. to 5 p.m. to film a car accident scene. "We will need all that daylight to shoot a scene just beyond the bridge," Berard said.
Despite the bridge being closed, a lane will remain open for emergency vehicles and the school buses will also be able to pass to prevent a disruption to the education of the kids. A fire engine will be stationed on the south side of the bridge as well, should there be an emergency on the south side of town.
Berard also took the time to thank everyone who has helped, and apologized for the disruptions they have caused, noting that he has heard the complaints. "I wanted to thank everyone in town," he said. "The support and willingness to help from businesses and the town has been great. Everyone has lived up to the 'Friendly Town' name."
Berard made a special note of thanking Orange Police Officer Clay Rushford, calling him the unofficial chief of the Castle Rock Police Department.
Once the principal photography has completed next week, a block of time in January has been set aside for reshoots if needed. Otherwise, they will be packed up and out of town by the end of January.
There is still no word on when "Castle Rock" will premiere on the streaming service Hulu, nor is there any news on a possible season two. However, if the show is picked up for subsequent seasons, and Massachusetts continues to offer tax breaks for filming in the state, there is a very good chance Orange will become Castle Rock again, Berard said.