By Jenna Fisher
Patch.com
July 19, 2019
Here's where and what that means for you with parking and road closures.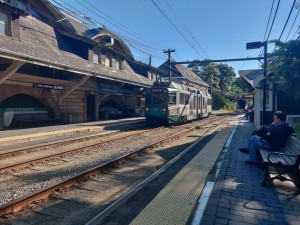 NEWTON, MA — There will be lights camera and action around Newton Saturday. The murder mystery TV series that filmed at Cold Spring Park in April is back to film scenes at Zervas Elementary and near the Centre Street T Saturday. If you notice "no parking" signs near the T and activity at the school, that's why.
Author William Landay, a Newton resident, set his 2012 best-seller "Defending Jacob," right here in the city and the producers of the crime drama miniseries decided to film here, too.
Chris Evans of "Captain America" fame is starring in the series, which is being produced by Paramount Pictures for Apple TV. The eight-episode series promises to take viewers along the journey of Andy Barber, an assistant district attorney who is investigating the murder of a 14-year-old boy and then comes to find out his son is a suspect.
Landay and his family have lived in Newton Highlands since 2004. The best-selling New York Times author appears to have been just as inspired by his work as an assistant DA in the Middlesex County DA's Office as he was by his surroundings in his hometown.
Saturday, July 20, crews will be filming near the Newton Centre T-Stop between 11 a.m. and 4 p.m. on Union Street. During that time there will be parking restrictions on Braeland Avenue, from 30 Braeland to Cypress Street, Herrick Road will also have no parking from Union Street to Braeland, and Union Street from Herrick Road to 70 Union will also be closed to parking.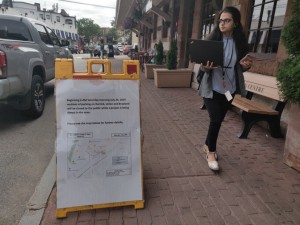 A little later Saturday, between 8 p.m. and 12 a.m. the crew will be filming behind Zervas Elementary School, 30 Beethoven Ave near the playground and Cold Springs Park.
With the filming, the production company has asked for special permit to restrict parking on Beethoven Ave. So be aware that there will be no parking allowed between 8 p.m. and midnight from Puritan Road to 30 Beethoven Ave.
The assistant location manager for the project said anyone who needs to coordinate moving up or down the street during that time Saturday night should contact her at vvirtue14@gmail.com or call me at 508-404-4812 or Carol Stapleton from Newton Parks Department at 617-796-1508.