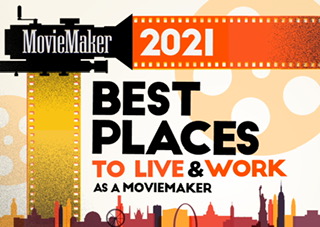 Boston has been named one of MovieMaker's Best Places to Live and Work as a Moviemaker in 2021, ranking 9th out of 25 cities!
MovieMaker determined the winners using surveys, research on tax incentives and recent productions, and personal visits to most of the locations on the list, as well as the best available information on how they're coping with the pandemic.
The full list of cities and towns — which covers both the U.S. and Canada – is below.
MovieMaker's 2021 Best Places to Live and Work as a Moviemaker.
CITIES
1. Albuquerque
2. Atlanta
3. Austin
4. Chicago
5. Vancouver
6. Philadelphia
7. Montreal
8. Miami
9. Boston
Some of the MovieMaker staff have been living outside Boston throughout the pandemic, and can join Mark Wahlberg, Ben Affleck and Matt Damon in endorsing it often and unreservedly. Boston is as metropolitan as other big cities, but with an abundance of greenery and outdoor space, plus quaint coastal towns and unspoiled beaches nearby. From The Thomas Crown Affair half a century ago to modern Oscar contenders like The Departed and The Social Network, it looks beautiful on camera.
Massachusetts has taken a careful, sensible approach to containing COVID-19, and long winters mean Bostonians might have a little edge on the rest of the country in terms of staying indoors and getting things done, without complaint, for long stretches of time. A wealth of small towns nearby can stand in for any kind of community you need, from blue collar to blue blood.
Also, film culture thrives here, thanks not just to magnificent arthouse venues like the Brattle Theatre in Cambridge, Coolidge Corner Theatre in Brookline and the Somerville Theatre in Somerville, but an unassailable documentary tradition anchored by PBS's Boston-based series Frontline. Recent films shot in the region include Don't Look Up with Jennifer Lawrence and Mother/Android with Chloë Grace Moretz.
The very film-friendly Bay State includes a 25% production credit, 25% payroll credit, and a sales-tax exemption. And F. Scott Fitzgerald called New England "the Land of Schools" for a reason: excellent ones for aspiring moviemakers include Emerson College, Boston University, Northeastern University, and many more.
10. Calgary, Alberta
11. Toronto
12. Dallas
13. Cincinnati
14. Cleveland
15. Oklahoma City
16. Memphis
17. San Diego
18. Baltimore
19. Portland
20. Washington DC
21. Kansas City, Missouri
22. San Antonio
23. Seattle
24. Milwaukee
25. St. Petersburg
SMALL CITIES AND TOWNS
1. New Orleans
2. Santa Fe, New Mexico
3. Pittsburgh
4. Savannah
5. Victoria, British Columbia
6. Providence
7. Tulsa
8. Richmond
9. Wilmington, North Carolina
10. Ashland, Oregon
For the complete 2021 list of Best Places to Live and Work as a Moviemaker — and complete details — visit MovieMaker.com.