By: Meghan Smith | WGBH.COM | February 8, 2022 
"CODA" opens with a quintessential New England scene: a father, son and daughter out on the water in their fishing boat, reeling in traps and nets. Ruby, played by Emilia Jones, belts her heart out to "Something's Got a Hold of Me" by Etta James playing on the radio as they pull into Gloucester harbor.
Ruby is a CODA, an acronym meaning "child of deaf adults," and is the only hearing member of her immediate family. She loves singing and dreams of attending Berklee College of Music in Boston when she finishes high school, but she's torn about leaving behind the family business and her role as interpreter for her family.
That's the premise of the heartwarming film "CODA," which was nominated today for three Oscars: best picture, best adapted screenplay for Cambridge native Sian Heder and best supporting actor for Troy Kotsur.https://www.youtube.com/embed/0pmfrE1YL4I?enablejsapi=1
Kotsur, who plays Ruby's salty fisherman father, Frank, makes Oscar history as the first deaf male actor to be nominated in an acting category. Kotsur's humor and charisma carries the story forward as the family starts to accept that Ruby has dreams that don't align with her family's.
Heder, who also directed the film, told NPR that Kotsur fit the part when she first saw him on stage in Los Angeles. "I think he's got incredible charisma and presence. And his ASL is really beautiful," she said. "He just looked like a Gloucester fisherman who had been out on a boat his whole life smoking cigarettes and gutting cod."
Filmed in Gloucester during the summer of 2019, "CODA" had been picking up nominations and wins throughout the awards season, including at the Golden Globes, Screen Actors Guild Awards and the BAFTAs. The film made a splash when it premiered at the Sundance Film Festival in 2021 and was acquired by Apple for streaming.
Although it's a heartwarming coming-of-age film, it's not short on laughs, thanks to Kotsur and his onscreen wife Marlee Matlin. Matlin made history herself in 1986 when she became the first deaf nominee and Oscar winner for her lead role in "Children of a Lesser God."
Daniel Durant, also a deaf actor, plays their son.
The story is based on a 2014 French film, "La Famille Bélier," which used hearing actors to play deaf roles. During the casting process, Matlin insisted on having deaf actors play the deaf characters, which isn't always the norm for Hollywood.
"In my 35-year career, I've never had deaf co-stars in leading roles that carry the film equally as me," she told USA Today. "This is a very special movie.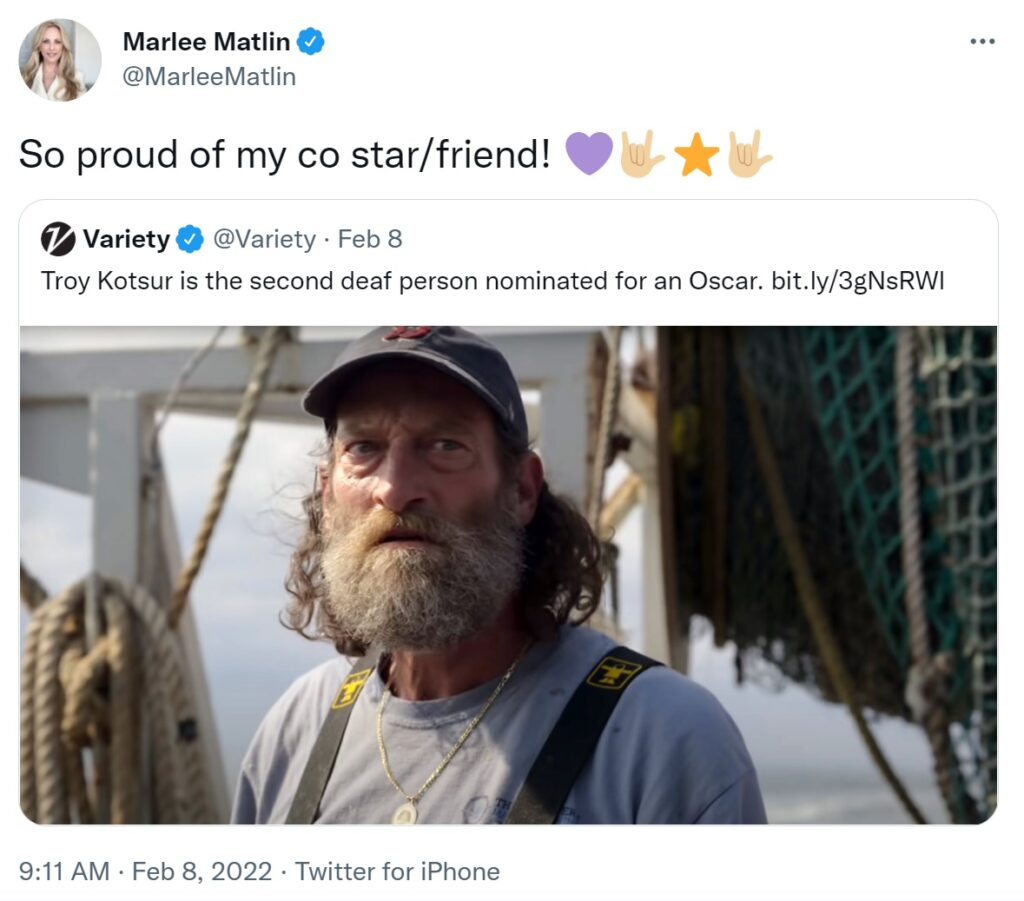 Joe Toledo, a local deaf actor, said "CODA's" recognition at the Oscars today was a "thrill." He praised the film for its ability "to increase transparency to provide more opportunities" for the deaf community in film and television in Massachusetts and more broadly.
In the Oscar race, Kotsur will be up against Ciarán Hinds for his role in "Belfast," Jesse Plemons in "The Power of the Dog," J.K. Simmons in "Being the Ricardos" and Kodi Smit-McPhee in "The Power of the Dog."
The 94th Academy Awards take place on Sunday, March 27.