Massachusetts effects company shares SURROGATES' secrets.
"Production values are immaculate."
—VARIETY September 24, 2009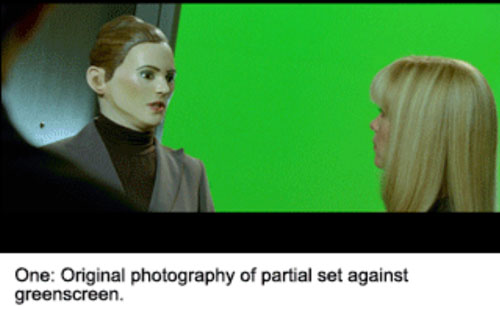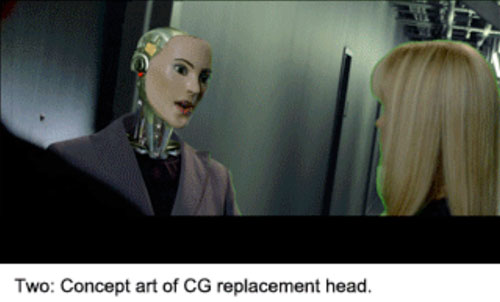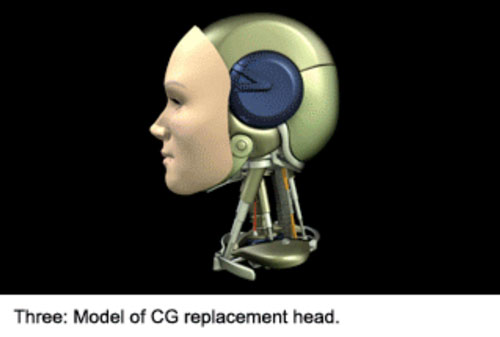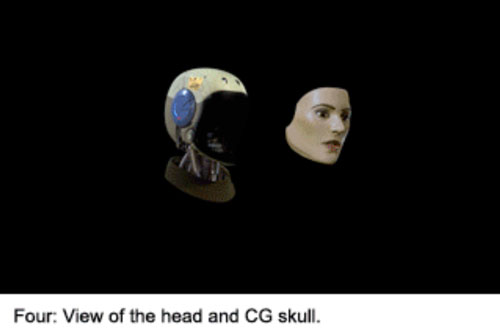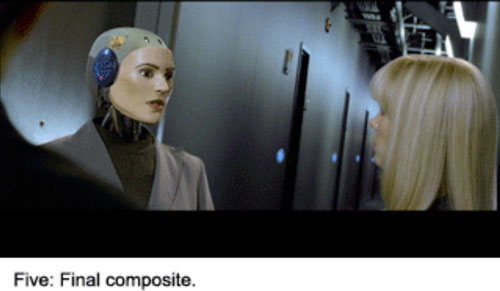 By Ellen Wolff
Millimeter
September 25, 2009
Cyborgs are always in style, as director Jonathan Mostow knows well. After delivering Terminator 3: Rise of the Machines, Mostow turned to Surrogates, a futuristic tale in which people remotely control robot versions of themselves. The Touchstone Pictures release features Bruce Willis and Radha Mitchell as FBI agents and photoreal CG robots animated at Synthespian Studios. "They look human on the outside, but are mechanical underneath," says Synthespian Visual Effects Supervisor Jeff Kleiser. "Our goal was to get the audience to believe that these surrogates are actually robots and not just actors pretending to be robots."
In one scene, Willis and Mitchell confront an odd-looking landlady of an apartment building where a murder has been committed. "The idea was that this landlady's normal surrogate was out for repair, so she's using a cheapo temporary model that isn't complete," Kleiser says. "Originally, the production thought we could do this with a makeup effect, but this temp robot looked like someone in a bad Halloween costume. You could see that there was actually enough room for a person to be under the mask. So we suggested that if we substituted a CG head, along with a neck you could see through, then this clearly would have to be a robot."
"It was an opportunity to expose that she was in fact a machine," says Surrogates Visual Effects Supervisor Mark Stetson (whose many credits also include the cyborg classic Blade Runner). Stetson collaborated with Synthespians' Concept Artist Diana Walczak to develop a new look for the robot, creating iterations of concept art done with Adobe Photoshop. "I did a sketch rotoing around the actor's mask and using a bit of a CG skull that Synthespians had developed," Stetson says. "Then we added bits of a robotic neck to the concept and developed a 'homemade' previz. We put a little repair sticker on it to emphasize that it was a rental unit. Jonathan Mostow approved that, and Synthespians took it from there."
The scene unfolds in the hallway of an apartment building, and Stetson had shot the stills of the hallway that would later be inserted as a background for the actors, who were filmed against greenscreen. "We took measurements when we shot the greenscreen," Stetson says. "The very last thing I did was go back to that hallway to match the camera positions for the various takes that were done there, so we could tile the background images in Photoshop."
The shot was constructured primarily at the Synthespians studio in Williamstown, Mass. Since the camera was moving and the landlady was walking around in the shot, the Synthespians team tracked the motion of her performance and the camera using Autodesk Maya and 2d3 boujou software. "The camera move was subtle, but because the landlady was walking and turning her head the shot required a fair amount of tracking," Kleiser says.
The photographed image of the actor wearing the mask was selectively rotoscoped out of the plate photography using a combination of Adobe Photoshop and Apple Shake. The animation of the CG robot face that replaced it was done in Maya. "[The animation emphasized] that this robot was like a junk rental car. We wanted to preserve the actor's mouth because it had a creepy quality," Kleiser says. "We could have replaced the whole head with a CG head, but there was something interesting about the way her mouth roughly matched the dialogue. It had approximate lip-sync that was not very articulated, so you could believe that it was a low-rent robot. And we would have had to spend a lot of time doing lip-sync in the computer, so we kept it.
"We then had to light our CG elements to match the lighting of the scene. That was a little tricky because this shot had not been tagged originally as a visual effects shot. I was an on-set supervisor during filming, so if I'd known it was going to become an effects shot I would have gotten HDRI [high-dynamic-range imaging] information. Fortunately, Mark Stetson had a data logger for every shot who got all the pertinent data on the camera, including the lens that was used and the height of the camera and so forth. But the only information we had about the lighting was what we could see in the plate photography—such as where the shadows fell—and Mark's recollection of where the lights had been placed. So we had to rough in the lighting without all the data that we normally get, and it took a little while to wiggle the lights and textures into position until they looked right."
Because the robot's head was a metal object, the Synthespians team used mental images mental ray for rendering, which enabled them to get convincing reflections and refractions of light. The CG was finally composited with the plate photography using Shake.
This scene represented a moment when we see a striking difference between a surrogate and real humans, but the 220 shots Synthespians created for the film challenged the effects house to create virtual humans in a variety of ways. Kleiser jokes that there might be a business opportunity using CG to improve the on-screen appearance of aging actors. "We started this company to focus on the human figure and face, and do computer generated replications of that," he says. "But with what we learned from Surrogates, Synthespians could probably set up a whole company in L.A. just to extend the roles that actors can play."
Credit Roll
Director: Jonathan Mostow
Director of Photography: Oliver Wood
Visual Effects Supervisor/Concept Artist: Mark Stetson; For Synthespian Studios:
Visual Effects Supervisors: Jeff Kleiser, Jeffrey Kalmus
CG Supervisor: Brian Emerson
Compositor: Eric Deinzer; Matchmove Artists: Alex Tirasongkran, Jessica Hee; Concept Artist: Diana Walczak
R&D Artist – Travis Pinsonnault
Visual Effects Co-producer: Chris Holmes; Digital Intermediate: Company 3