Dante Ferretti helps shape Scorsese's 'Island'
By PETER CARANICAS
VARIETY
February 23, 2010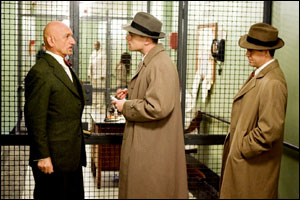 'Shutter Island' production designer Dante Ferretti and director Martin Scorsese shot most of the pic's interiors in an abandoned warehouse in Massachusetts.
TONGUES WAGGED last August when Paramount said it had made the business decision to postpone the release of "Shutter Island" from October to February.
The delay removed the film from this year's awards contenders and risked alienating helmer Martin Scorsese and fans whose appetite had been whetted by trailers for the thriller. But it doesn't seem to have damaged the pic's box office haul, which came in at just over $40 million domestic on its opening weekend — thanks in part to a dark puzzle of a story underpinned by the unsettling environment created by production designer Dante Ferretti.
"Shutter Island" is Ferretti's seventh film with Scorsese; others include "Kundun" and "Gangs of New York" and "Aviator." "We're on the same wavelength," Ferretti says. "Martin speaks a lot at the beginning. I listen. Then I make my suggestions, too."
The Dennis Lehane novel on which "Shutter Island" is based takes place in Massachusetts, and the film was shot almost entirely in the Bay State. "We looked at Massachusetts, Connecticut and Rhode Island — searching for incentives so we would get a bang for the buck," says location manager Robin Citrin. "Massachusetts had good ones, plus a lot of abandoned mental hospitals, some of them with incredible architecture."
Scorsese and Ferretti picked a derelict facility in the town of Medfield and "surrounded it with a high wall to make it look like a prison, or like an institution for the criminally insane," says Ferretti. (The film is set in 1954.) "We also found an old warehouse where we shot most of the film's interiors. We used it like a studio and built about 70% of the film's interiors from scratch inside of it."
Ferretti worked closely with vfx supervisor Rob Legato to create the lighthouse on Shutter Island, site of the film's denouement. "We built just 20 feet of its exterior," says Ferretti. "The rest, up to the top, was CGI. I did the drawings and built a small model so we would have a clear idea of what to do."
Set decorator Francesca Lo Schiavo, Ferretti's collaborator and wife of 25 years, dressed all the sets to give them spooky yet accurate period details. During jobs, the duo try to not talk shop in the evenings. "We have a very good meal instead," says Ferretti, "and talk about the vacation we'll take when we finish the movie."
But, after a pause, he betrays the workaholic within: "What I do is a great pleasure. When they ask me where I'm going on vacation, I say, 'I'll go on vacation when I start to work.'"
Ferretti is now taking his eighth "vacation" with Scorsese, filming "The Invention of Hugo Cabret," with exteriors in Paris and interiors in London.