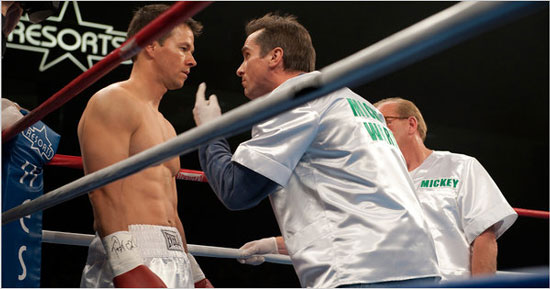 Mark Wahlberg, left, and Christian Bale in "The Fighter." (Photo by Jojo Whilden)
By MICHAEL CIEPLY
NY Times
August 9, 2010
LOS ANGELES — Take a cast full of past Oscar nominees like Amy Adams and Melissa Leo, working for almost no pay in return for a piece of the future action. Throw in outside financing, a classic underdog story and a director with cachet, David O. Russell.
In contemporary Hollywood that will get you all the way to "maybe."
"The Fighter" has those elements — plus Christian Bale, and the extraordinary passion of Mark Wahlberg, who started training almost four years ago for the lead role as the real-life boxer Micky Ward. But the movie still had to survive a grueling behind-the-scenes struggle before landing on the schedule at Paramount Pictures, which plans to release it on Dec. 10, as the awards season hits full stride.
Even though the Academy of Motion Picture Arts and Sciences, which awards the Oscars, doubled the number of best-picture nominees to 10 last year, major studios have become extremely skittish about taking on the kind of grown-up dramas that traditionally win the prizes.
Privately, studio executives have talked of backing away from heavy promotional commitments to films like "Frost/Nixon" or "Changeling," which grabbed a handful of nominations without making much impression at the box office. Last year 20th Century Fox put its big Oscar push behind the science-fiction epic "Avatar" while Walt Disney promoted the animated "Up" — and the best-picture award went to the independently produced drama "The Hurt Locker."
A handful of star-heavy dramas have still slugged their way onto major studio schedules for the awards cycle that will begin in earnest with the opening of the Toronto International Film Festival on Sept. 9. Those include "How Do You Know," directed by James L. Brooks, with Reese Witherspoon and Jack Nicholson, among others, at Sony Pictures, and "The Town," directed by and starring Ben Affleck, at Warner Brothers.
But none of those pictures fought harder than "The Fighter."
"Many times I thought it wasn't going to happen," said Mr. Wahlberg, who spoke by telephone last week.
Mr. Wahlberg, who spent several years waking before dawn to work on his physical conditioning, recalled thinking, "If I don't get this movie done the way I want to, I'm going to use this training on somebody in a bad way."
Rob Moore, Paramount's vice chairman, acknowledged that his studio had been wary of "The Fighter," which promises to become Mr. Russell's first major release since his "I ♥ Huckabees" fizzled for Fox Searchlight Pictures in 2004.
"The Fighter" is a biopic that follows the ups and downs of a come-from-behind welterweight and his half-brother, and like a lot of adult-oriented dramas, "ultimately, these are tougher movies," Mr. Moore said. "They're all about execution."
Even though Paramount developed "The Fighter" as an in-house project after acquiring rights in March 2005 — just as Brad Grey was taking over from Sherry Lansing in the chief executive's post — the studio did not reach a deal to distribute the film until recently. By then it had been shot, screened for competing studios and almost wound up on the schedule at Universal, which this year is without its usual array of obvious Oscar contenders.
Back in 2007 Paramount almost made "The Fighter" based on drafts by a pair of original writers, Eric Johnson and Paul Tamasy, with later script work by Lewis Colick, with Darren Aronofsky directing, and Matt Damon playing the half-brother, Dick Ecklund.
But Mr. Damon moved instead to other projects, opening the door to a monthslong flirtation with Brad Pitt, and more writing at various points by Paul Attanasio and Scott Silver.
Eventually Mr. Pitt dropped out, as did Mr. Aronofsky, who in the interim had made "The Wrestler" and decided against another trip to the ring. Mr. Bale then agreed to play Mr. Ecklund, a former boxer who helped train his younger half-brother, and whose addiction to crack cocaine was portrayed in the documentary "High on Crack Street: Lost Lives in Lowell."
"It was always in danger of collapse," said David Hoberman, who with Todd Lieberman, his partner in Mandeville Films, originally took "The Fighter" to Paramount, and ultimately saw it through production on location in Massachusetts.
The producers and others credit Mr. Wahlberg with keeping the film alive. In particular, he became an advocate for Mr. Russell, a friend who spent months watching sports television with him and offered thoughts about the film before becoming its director.
Mr. Russell joined Mr. Silver in massaging the story into what Mr. Moore and others now describe as a drama that is tinged with humor — as was Mr. Russell's "Three Kings" — and wide enough in its appeal that an early screening found the film playing even better with women than with men.
Paramount, however, would not shoot "The Fighter" with its own money. So Mr. Wahlberg's agent, Ari Emanuel, of William Morris Endeavor Entertainment, helped round up support from Relativity Media, whose chief executive, Ryan Kavanaugh, also became a producer.
According to Mr. Kavanaugh, the budget was a modest $24 million or so, before taking into account tax credits from Massachusetts. The stars, Mr. Kavanaugh said, deferred virtually all of their fees to help balance risk and reward.
"You're putting your life, and the movie's life, in the director's hands," said Mr. Kavanaugh, who added that Mr. Russell actually delivered what he believed would be a broad-based crowd-pleaser.
Mr. Moore now says the same. But even after the film was shot, Paramount continued to drive an unusually hard bargain. At one point the studio proposed that Mr. Kavanaugh's company pay the full cost of marketing the movie. And in the end it did not give "The Fighter" a slot in its deal with the Epix pay channel, leaving Relativity to make arrangements of its own through a NetFlix pay service. Pay-television deals are especially important in helping to cover the cost of films that do not have the automatic box-office appeal of effects-driven fantasies and animated movies.
Before the deal was settled Mr. Kavanaugh screened the movie for Sony Pictures and Lionsgate, among others, and nearly reached an agreement to release it through Universal, where Relativity has a standing business arrangement.
But Paramount eventually warmed up — few in Hollywood have forgotten that Warner Brothers let "Slumdog Millionaire" and its best-picture Oscar slip away to Fox Searchlight — and has now made what all parties agree is a promise to push "The Fighter" wholeheartedly, with the help of significant advertising on televised sports events at the height of football season.
Only last year Paramount seemed to be thinning its Oscar presence, as it pushed "Shutter Island," a thriller directed by Martin Scorsese with Leonardo DiCaprio in the lead, out of the awards season and into a February release.
But the studio now finds itself with at least five films that will be calling for attention, and promotional dollars, as the new season unfolds. Those include not just "The Fighter" and "Shutter Island," which qualifies for the 2010 awards, but a documentary, "Waiting for Superman"; the DreamWorks Animation blockbuster, "How to Train Your Dragon"; and the yet-to-be-released remake of "True Grit" from Joel and Ethan Coen.
As for "The Fighter," Mr. Wahlberg noted, struggle is nothing new when it comes to the story of Mr. Ward and Dick Ecklund, both of whom were written off more than once before Mr. Ward's triumph, in 2000, in a junior welterweight title fight that figures in the film.
"These are guys who against all odds achieved their goals and realized their dream," Mr. Wahlberg said. "It wasn't supposed to happen."