Lowell champ's story made for big screen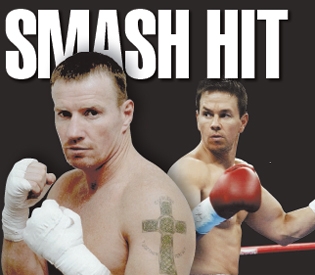 By Ron Borges
Boston Herald
December 3, 2010
It feels a little odd knowing someone else is playing you, Micky Ward had to admit yesterday, but what's odder than getting hit in the face for a living? After that, the idea of anything being "odd'' is a relative matter.
Monday in Los Angeles — and Dec. 10 in Boston — Paramount Pictures will premiere a movie called "The Fighter,'' starring Mark Wahlberg and Christian Bale. It is a story based, loosely at times, on the life and hard times of Ward, an Irish kid from Lowell who rose up against the longest of odds and ended his career as a prizefighter by actually winning the prize — which in boxing is otherwise known as a big payday.
You can talk about world championships and gaudy leather and diamond-encrusted belts all you want, but if you hit someone in the face for pay while trying to avoid him returning the favor, you want to get well paid for it. For most of his 17-year career, Micky Ward wasn't, which is what has made his life a movie and why a movie has been made about his life, or at least the portion of it that ended on March 11, 2000, the night he won the World Boxing Union light welterweight (140 pound) title from a Brit from Merseyside, Liverpool, named Shea Neary.
That night was supposed to be a coronation in a country that knows a thing or two about coronations. What they didn't know about was boxing, a sport where guys usually hit back, or about Micky Ward, who always did.
Although he would go on to fight the aptly nicknamed Arturo "Thunder'' Gatti three times two years later and earn nearly $3 million for the troubles they caused each other in the final three fights of what became a storybook career, Ward's cinematic story ends that night in London, with his hand raised and Shea Neary considering a day job.
"I made a lot more money at the end, but the greatest part was winning the champ-ionship in London, because people over there didn't know who I was and didn't give me a chance," Ward recalled yesterday. "That night there was something inside me — really for the first time ever. I knew I was going to win.
"He tried to bully me before the fight. He put his face right in mine. I always ignored that kind of stuff because to me, trash talking is stupid, but that night I pushed my face right back into his and pushed him back.''
Then he hit him back. Hit him so many times Neary folded up like a beach umbrella after eight rounds, ending his night crouched in the fetal position as referee Mickey Vann jumped in to stop the assault. When Vann finally got there, Neary looked at him as if to say, "What took you so long?"
Next week the world will see the cinematic version of not only that night, but of Ward's sometimes dysfunctional family life and how, in the end, he triumphed over all of it with his troubled older half-brother, Dickie Ecklund, in his corner. Dickie had seen his own career and much of his life dissipated by drug abuse.
It is not always a happy story, but it's a feel-good ending, one that has left the 45-year-old Ward wealthy beyond his dreams, yet still happy to work as a driver on movie sets for the Teamsters and occasionally run the road grader he used to operate when he needed that road crew job to supplement his boxing income.
For a fighter like him, with no one behind him when he made his pro debut at Roll-On America Skating Rink in Lawrence in 1985, it wasn't supposed to end with a movie and several million dollars' worth of income late in his career. That's not what boxing is very often.
It's a hard road to a dead end more often than not, a sport that leaves its practitioners with some memories, some scars and not much else. Most guys' stories don't end like "The Fighter,'' and no one knows that better than this fighter.
"I've been 100 percent blessed,'' Ward said. "There were some tough times, like when I quit the first time (following a 1991 loss to Ricky Myers). My confidence was shot. When I came back (32 months later) I fought for $400 in a ballroom at the Sheraton in Lowell. Not many people thought it was a good idea. I was lucky. If I'd listened to them there wouldn't be no movie, I'll tell you that.''
But there is, and while Ward understands why it has caused a frenzy among people who know him, he looks upon it pretty much the same way he did during his 17 years as a boxer. In essence, he says, "So what?"
"If you told me a few years go I'd end up with some big paydays at the end of my career and someone would make a movie about my life, I'd have asked you what bar you were drinking at and how many you'd had," Ward said with his trademark soft, self-deprecating laugh.
"I know people are excited about the movie. It's great. I am, too. But I don't feel no different. I'm not a big limelight guy. I don't look at it like I'm a big deal because they made a movie about my life. Who cares who Micky Ward is?"
Paramount Pictures is hoping a lot of people will.