Former Lowell boxer back in spotlight
By O'Ryan Johnson
Boston Herald
December 4, 2010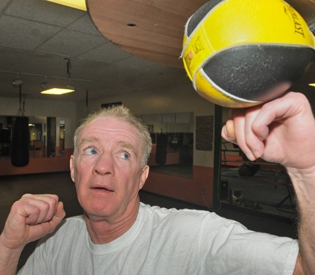 Photo by Patrick Whittemore
Dickie Eklund is about to be famous — again.
This time it's a redemption tale titled "The Fighter," told by Hollywood and set against some of the lowest points of his life.
"The Fighter" premieres Monday in Los Angeles and Friday in Boston, starring Mark Wahlberg as Micky Ward and Christian Bale as a drug-addled Eklund in a performance already generating Oscar buzz.
"It made me sad to watch it," Eklund, 52, said of his sneak preview. "It was tough to see. . . . I wish I'd had me to look after me. I can tell when a fighter's been up after 12, or had three beers. I don't want a person to go through what I went through."
Eklund, the half-brother and trainer of Lowell slugger "Irish" Micky Ward, was once famous for fighting "Sugar" Ray Leonard and being the first to knock him down. Then came drugs and prison as fame took a dark turn. That led to a cringe-inducing role in the HBO documentary "High On Crack Street," an early reality series, and then to infrequent appearances in the Lowell Sun's police log.
But no matter his transgressions, Eklund is known as one of the toughest boxers the Mill City — home to the annual New England Golden Gloves Tournament of Champions — ever produced.
"The first time I saw Micky Ward, he was 7 and he was carrying Dickie's bag into the gym," said Arthur Ramalho, owner of Lowell's West End Gym, where the two trained, and which was also used as a set for the movie. "To tell you the truth, it's good to see him get a little praise for what he did. He's a hard worker."
Eklund's fight against Leonard was an improbable matchup that foreshadowed his half-brother's first legendary 10-round battle with Arturo Gatti.
Eklund was a two-time New England Golden Gloves champ with a solid professional record, while Leonard stepped into the Hynes Memorial Auditorium in Boston as an undefeated professional and Olympic gold-medal winner.
Eklund and Ward were underdogs matched against fighters who were considered more technically skilled and who were expected to dominate the bout. But both scored knockdowns that stunned the experts as much as their opponents.
In those two career-defining contests, Ward won and Eklund lost.
"I love boxing," said Eklund, who ended his career at 19-10. "I didn't love the notoriety, when you walk into a room and everyone stares and is whispering, 'He fought Sugar Ray.' "
Eklund said while the movie paints a contentious relationship with Ward, the truth is it was never that bad.
And Eklund said he "clicked" with Bale, who managed to copy his "Dickie Dance" for the film, a shoulder move that Eklund said confused Leonard when they fought.
Eklund said these days he teaches classes at two local gyms and hopes to slip out of the spotlight and convince people that being featured in a movie hasn't changed him, financially or otherwise.
"I just want to be better than I used to be," he said. "Not better than anyone else."