By Brian Badzmierowski
The Patriot Ledger
February 10, 2011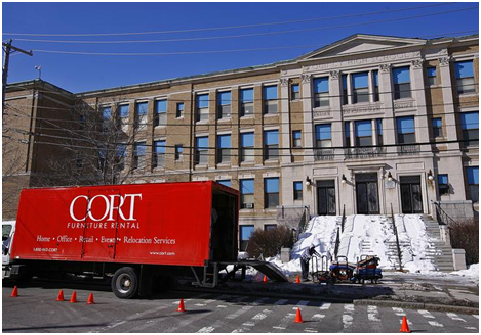 Photo by Greg Derr/The Patriot Ledger
QUINCY —The old Quincy High School overshadowed its newer counterpart Wednesday as offices were set up inside for the production crew of a movie that will star Kevin James. The movie, titled "Here Comes the Boom," may be about a high school teacher who turns to professional fighting as a way to save his school's music program.
Matthew Hadfield, an assistant production coordinator for Columbia Pictures, flew in from Los Angeles last week and was one of the first people to arrive at Quincy High School to begin the redecoration process.
On Wednesday, movers were busy rolling office desks, cabinets and tables into the building as Hadfield told his crew where to put everything. He decided to use an old guidance counselor's office as the production crew's office and the teachers' lounge as the crew's kitchen.
Once the offices have been set up and have phone and Internet service, the rest of the movie crew will convene in Quincy, Hadfield said.
The timetable for when the movie will start filming is uncertain, but Quincy Mayor Thomas Koch rented the school to Columbia Pictures from Feb. 2 to Aug. 26.
Brian Badzmierowski can be reached at bbadzmierowski@ledger.com.