Newton native's first film gets shot at Oscar
By Loren King
Boston Globe
February 13, 2011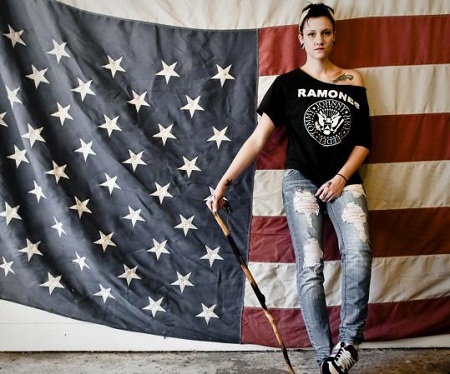 Robynn Murray, a former combat soldier in Iraq, is the subject of the Oscar-nominated documentary short "Poster Girl.'' (Alan Kimmel/HBO)
The Oscar-nominated documentary short "Poster Girl'' is Newton native Sara Nesson's first film, but it was only a matter of time. After all, she's proud to say, it was beneath her father's editing table that she learned to crawl. Robert Nesson of Somerville, an independent producer/director whose films focus on the environment, human rights, and educational projects (he's also an instructor at Emerson College), taught his daughter not just the nuts and bolts of filmmaking but how it can raise awareness and effect social change.
"He's my greatest inspiration. He ingrained in me the responsibility to do something,'' says Sara Nesson, 36, who now lives in Brooklyn, N.Y. What Sara did was spend more than a year filming Robynn Murray, a former cheerleader who enlisted in the Army at 19 and served as a combat soldier in Iraq, as she struggles to rebuild her life while suffering from post-traumatic stress disorder. The 38-minute film follows Murray's attempts to navigate the bureaucratic nightmare of the Veterans Administration, her budding antiwar activism, and her involvement with the Combat Paper Project, a community of vets who make works of art from scraps of their uniforms. "Poster Girl'' began screening Friday as part of an Oscar-nominated shorts program at the Coolidge Corner Theatre. It will air on HBO in the fall.
Nesson met Murray during the filming of another documentary she was working on, "Iraq Paper Scissors,'' now in post-production. Murray was among the veterans invited to an artists' retreat in 2008 on Martha's Vineyard, where Nesson once lived and worked (she shot weddings to finance her films). When Nesson showed footage to producer Mitchell Block, he convinced her that Murray was compelling enough to carry her own film and signed on to co-produce "Poster Girl.''
"I wanted to tell an intimate story and show the struggle of these vets. Robynn was the only one that trusted me,'' says Nesson. "Her voice was so powerful; I knew she could be a voice for the thousands that were struggling alone.''
Nesson, who graduated from the Rivers School in Weston and from the University of Vermont, hopes the attention from "Poster Girl'' will help her complete "Iraq Paper Scissors.'' Her short film has already caught the attention of Hollywood: Producers Tony Bill ("The Sting'') and his wife, Helen Bartlett ("North Country''), contacted Nesson about developing a movie based on Murray and the two other gun-toting female soldiers featured on the cover of Army magazine whose postwar experiences belie the image the military apparently sought to market.
Nesson says assisting her father on film projects as the two traveled the world from Siberia to Japan played a crucial role in her development as an editor and director. After moving to New York, she was the principal editor on "Stolen Childhoods,'' a 2005 feature documentary about global child labor. In 2006, she edited "Plastic Disasters,'' directed by Kate Davis, for HBO. She also edited the special features and bonus content for "Born Into Brothels,'' the 2004 Oscar-winning documentary co-directed by Ross Kauffman and Zana Briski about the children of prostitutes who work in the notorious red light district of Sonagchi in Calcutta.
Nesson jokes that she was "tearing her hair out for three months'' after learning that "Poster Girl'' was among eight documentaries short-listed for an Academy Award. Since shorts are not announced on television with features and acting nominees, Nesson learned the good news over the Internet. "My cats ran under the bed to hide from my screaming,'' she says. The whirlwind since that moment has included her snagging a $6,500 designer dress marked down a whopping 90 percent at a New York City sample sale. Her mother, Penny Steinberg of Boston's Back Bay, will be Sara's date for the Oscars. Her entourage also will include Murray and one dozen other close friends, who are all flying to Los Angeles for the Feb. 27 ceremony. "I haven't been married, so the Oscars are like my wedding,'' Nesson says.
Loren King may be contacted at loren.king@comcast.net.