By Richard Duckett, Telegram & Gazette Staff
Worcester Telegram & Gazette
January 13, 2012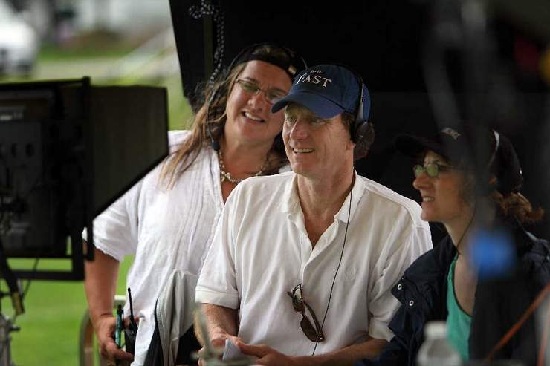 Director and co-writer John Stimpson, center, during filming. At right is Andrea Ajemian, a co-producer. (SUBMITTED BY BRIAN CROWLEY)
An independent movie shot entirely in Worcester that deals with the timely and troubling topic of teenage bullying will have its premiere on the Lifetime Network at 8 p.m. Saturday.
"Sexting in Suburbia" stars Liz Vassey (a regular on "CSI") as a mother, Rachel, whose life is shattered when her teenage daughter, Dina (played by Jenn Proske), commits suicide after being bullied at school and on the Internet. Dina's secret that she tried to hide from her mother was that a candid picture she sent of herself to her boyfriend inadvertently went viral on the Web.
The film (which will be repeated at midnight Saturday and 10 p.m. Sunday) was shot in Worcester last spring. Of the 16 speaking roles, 11 cast members were from the Worcester or Boston area while five came out from Los Angeles (also including Judith Hoag, Kelli Goss and Emmy Award-winner Ryan Kelley).
"The film is getting a lot of attention," said director and co-writer John Stimpson of Princeton. "One — the topic is so relevant and in the news today. And I'm so proud of the cast because the performances are extraordinary."
The production also shows that Worcester is a location-rich and supportive environment for filmmaking, Stimpson said.
Co-producer Andrea Ajemian said that shooting locations included Worcester State University, Worcester Academy, Burncoat Senior High School, Ralph's Diner, The Beechwood Hotel, The Printers Building, and several private homes. The film also showcases the music of Bolton native Pete McNamara and his band, The Pete and Mike Band.
"I'm very excited," said Sarah Cote, who has a role in the film. Cote grew up in Sutton, graduated from the University of Massachusetts at Amherst last year, and now lives in Boston, auditioning for acting roles. "Sexting in Suburbia" is her first professional speaking part and her television debut.
"I think it's awesome," she said of the Worcester ties that bind the film. "By using local talent to put together a film shows that there's a town filled with talent right here."
"It just proves you don't have to go out (to Hollywood) to make it as an actor," said Kayla Harrity, who grew up in Auburn and like Cote is making her TV debut Saturday. "I was able to work with actors who are from Hollywood."
Harrity graduated from Emerson College and also like Cote is living in Boston and auditioning. "When I go and have that ('Sexting in Suburbia') on my résumé, I feel I have one kick up."
"There's something so magical about finding people locally that have these dreams," said Ajemian, who cast the local actors for the film in her office and studio at The Printers Building on Portland Street. "And launch careers," said Stimpson, who also has an office and studio in the building.
The film was produced by the Massachusetts production company Moody Independent with whom Stimpson is a co-producer. Stimpson's other credits include directing "The Legend of Lucy Keyes" and he has acted in theatrical productions in the area. Ajemian has her production company, Artigo/ Ajemian Films. Its credits include "BoyBand" (2010).
Stimpson and Ajemian were familiar with each other's work. "We always wanted to collaborate," Ajemian said.
With Stimpson as director and Ajemian a co-producer they have also made the movie "Christmas Kiss" (mostly shot in Richmond, Va.), and have just completed the filming for a drama called "Lockdown" that was also mostly shot in Worcester. With their respective offices and studios in The Printers Building, films are being pre-produced, produced and edited in post production right in downtown Worcester.
"We're contributing to the local economy," said Ajemian. She noted that actors coming in from Hollywood rent hotel rooms and many crew people rent apartments for the shooting. Stimpson said the producers have been able to get financing (although "Sexting in Suburbia" is "low budget" by Hollywood standards), and filmmaking here is helped by Massachusetts production tax credit.
For Ajemian and Stimpson, 2011 was a year of full-time filmmaking. "With independent films you never know. We're not going to take it for granted," Ajemian said.
Marvista Entertainment, an acquisitions and distribution entertainment company, became the broker for "Sexting in Suburbia" and worked out the U.S. deal with Lifetime Network. Besides this weekend's broadcasts, "Sexting in Suburbia" will be shown at other times on the network in the months ahead. There are separate distribution deals in place in Europe and Australia.
When the film was shot last year its initial title was "Broken Silence." The name was later changed to "Shattered Silence" and then became "Sexting in Suburbia" after being acquired by Lifetime Network.
The film is rated PG-13 because of a disturbing image, but could be watched by most families with teenagers who might find lots to talk about.
Massachusetts Gov. Deval Patrick has declared Jan. 25 "No Name Calling Day" and students are being encouraged to wear black as a sign of their commitment to "Black Out Bullying."
In "Sexting in Suburbia" the taunting and name calling for Dina starts almost immediately after the photograph she had sent goes awry. A popular student, she finds herself isolated, alone and in irreversible despair. The story unfolds via flashbacks and her mother's efforts to find out what happened and who intercepted the photograph and sent it worldwide. Both Vassey and Proske (best known so far for "Vampires Suck") give strong performances as the plot takes some unexpected twists.
While a serious drama, people viewing the movie here will likely have some fun identifying local scenery.
Some of the cast and crew will have a screening party Saturday. One problem — the New England Patriots versus Denver Broncos game will be going on at the same time.
Harrity said her father will see the film, but plans to watch the Patriots game.
"I said come on," Harrity said. "He'll have to DVR."