Congratulations to hometown hero Ben Affleck on his Best Picture Oscar for "Argo" and to all the other Massachusetts nominees!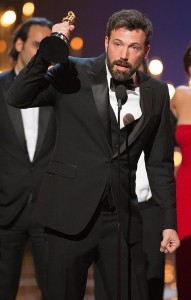 2013 OSCAR WINNERS
Best Picture:
Ben Affleck– Born in Cambridge, MA
(Argo)
Best Adapted Screenplay:
Chris Terrio– Harvard '97
(Argo)
2013 LOCAL OSCAR NOMINEES
Best Cinematography:
Robert Richardson– Born in Hyannis, MA
(Django Unchained)
Best Documentary-Feature:
Amy Ziering– Amherst '84
(The Invisible War)
Best Documentary-Short:
Cynthia Wade– Smith College '89
(Mondays at Racine)
Best Actor in a Supporting Role:
Tommy Lee Jones– Harvard '69
(Lincoln)
Best Short Film-Live Action:
Bryan Buckley–Born in Sudbury, MA
(Asad)
Best Short Film-Animated:
Timothy Reckart–Harvard '09
(Head Over Heels)
Best Original Song:
"Everybody Needs A Best Friend" from TED–Filmed in Massachusetts
("TED")
Congratulations to all the winners and nominees! For a complete list of last night's winners, click here.