By Enterprise Staff Report
Enterprise.com
July 18, 2013
R.I.P.D. wasn't first
1. The summer blockbuster "R.I.P.D." – which opens today – is the most recent Hollywood movie to be filmed in southeastern Massachusetts, but it's not the first. The special-effects extravaganza, starring Jeff Bridges and Ryan Reynolds as deceased cops, has roots in Raynham, but is one in a line of blockbusters filmed in the Metro South area. Other big-budget movies with local connections include Leonardo DeCaprio's "Shutter Island," partly filmed in Taunton, and Tom Cruise's "Knight and Day," partly filmed in Bridgewater.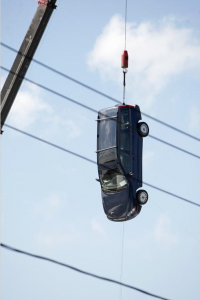 Green means go
2. In fall 2011, dozens of Hollywood crews built a huge green screen at the former Raynham dog park on Route 138 to film car-chase scenes for the action movie "R.I.P.D." Throughout September and October, vehicles were seen suspended by cables in front of the green screen, and the movie's signature gold Chevrolet Impala was spotted swerving, dodging and weaving. Portions of the movie were also filmed in Boston.
Shuttered in Taunton
3. Leonardo DeCaprio and Ben Kingsley came to Taunton in September 2009 to film "Shutter Island," which at the time was titled "Ashecliffe." But few residents ever caught a glimpse of the stars. On their way to an abandoned mill in Taunton for filming – it had been converted to a Nazi death camp – the stars often hid behind tinted windows and under blankets as they pulled onto the set. Several local residents were extras in the movie, playing World War II soldiers or emaciated prison camp survivors.
An Oscar-winning lunch
4. Even though there were no star sightings, the director of "Shutter Island," Martin Scorcese, visited the landmark restaurant Benjamin's in Taunton most days for his lunch. Scorcese had won four Oscars for his movie "The Departed" a few years earlier and was often seen around the city during the filming, some of which was also done at the former Taunton State Hospital.
Tom cruises into Bridgewater
5. Also in September 2009, Tom Cruise and Cameron Diaz visited the region for the spy-adventure movie "Knight and Day." One of the film's biggest scenes – a plane crash – was done at a Bridgewater corn field off Curve Street. Not only did residents get to watch the fake fuselage of the plane get towed through town on the way to the field, they got to see and hear the early-morning pyrotechnics of the simulated crash.
Surprise visit for students
6. While here filming, Cruise and Diaz met with a group of special needs students from Bridgewater-Raynham Regional High School. Their teacher, Kara Kuntupis, had invited the stars to visit the school and eat at the cafeteria run by the kids. Cruise and Cameron, instead, invited the kids, teachers and parents onto the movie set. The actors treated them to an ice cream bar and chatted and posed for individual pictures, which they later autographed.