By Jonathan Phelps
The Salem News
November 13, 2013
MARBLEHEAD — With the weather getting colder, Marblehead seems a million miles away from tropical Tahiti. But with a little Hollywood magic, no one will know the difference for an upcoming movie.
Several actors and actresses for "The Forger," including John Travolta, filmed scenes recently at Devereux Beach, which will double as a tropical island in the movie. This is an amazing feat, seeing that it was a frigid 31 degrees out, producer Bart Rosenblatt said in an email to The Salem News.
"It's the end of the film, which takes place on an island like Tahiti. We filmed Marblehead for Tahiti," he said.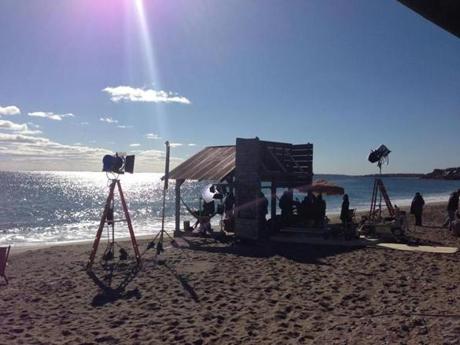 The production started filming in and around the Boston area last month, including scenes at Denny's restaurant and EconoLodge in Danvers, in Lynn and at the Museum of Fine Arts in Boston.
They filmed in Marblehead last week for about six hours during a one-day shoot near a cabana built as part of the movie set. While the scene features beach chairs, hammocks and tiki umbrellas, Rosenblatt acknowledged that it will take some post-production work to pull off the scene.
"We will digitally enhance the water color and add palm trees so it will look tropical," he said.
During the shooting, Travolta was seen wearing jeans and a blue T-shirt, while Sheridan was in a hammock sipping a tropical drink. Actors and actresses — several in bathing suits — wore large jackets and blankets when not shooting.
The scene also features Oscar-winner Christopher Plummer, who starred in "The Girl with the Dragon Tattoo" and "Beginners," and teen actor Tye Sheridan, known for his work in "Tree of Life" and "Mud."
The movie is about a second-generation petty thief (Travolta), who arranges to get out of prison to spend time with his ailing son (Sheridan) by taking on a job with his father to pay back the syndicate that arranged his release. Plummer players Travolta's father in the film.
This isn't the first time Hollywood magic has been used to transform Marblehead into a distant land.
A home on Marblehead Neck was fashioned to resemble a property in Los Angeles for "Grown Ups," an Adam Sandler movie that came out in 2010. Faux palm trees were brought in, and a massive fake gate was erected, along with an entire wing to the house to complete the scene.
When the film company was done, all of those things disappeared, as if by magic.
Staff writer Jonathan Phelps can be reached at 978-338-2527 or by email at jphelps@salemnews.com. Follow him on Twitter at JPhelps_SN.