By Joyce Maynard
Parade Magazine
January 18, 2014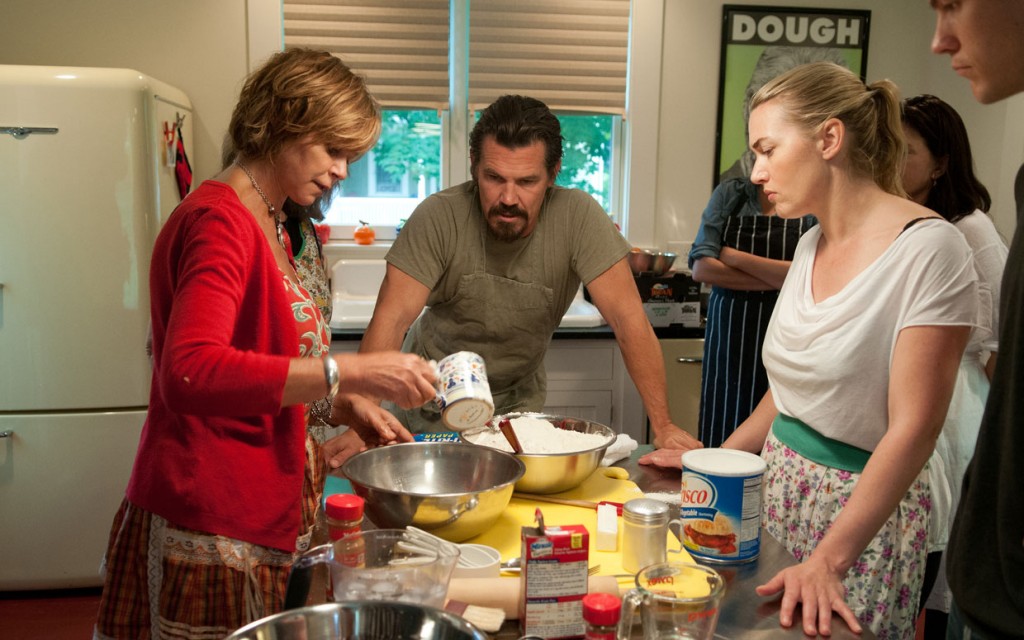 In the summer of 2012, I traveled to a town in Massachusetts to teach actors Josh Brolin and Kate Winslet how to make a pie. I had my favorite wood-handled pastry blender and my mother's rolling pin packed in my suitcase along with my lucky apron. Maybe I'd never star in a movie, but my pie would.
A few years back I wrote a novel called Labor Day, about a convict on the run who hides out in the house of a lonely single mother with a 13-year-old son. When I thought about how to get across the tender side of this man, Frank, a picture came to mind. He'd show the boy, Henry, and his mother, Adele, with whom he's falling in love, the art of pie making.
I bake a good pie myself—crust in particular. So when I got to the part in my novel where Frank explains how it's done, his instructions are the ones I always give: Add only the bare minimum of cold water and don't overhandle the dough. Roll out on wax paper. … Above all else, relax. We're talking pie, not soufflé.
My pie-teaching days began the summer my mother—a great baker herself—was dying of cancer. Nearly every day over those months, as friends came by to see her, I baked a pie. ­After her death, I started teaching others, using her method.
Homemade pie is a gift of love. You don't need fancy equipment or expensive ingredients. If you're lucky, you pick the fruit, or someone gives it to you. In fact—getting back to Labor Day—that's how Frank comes by his pie filling: A neighbor stops by with a bucket of overripe peaches.
"I'll have to throw these out," Adele says to Frank.
"I have a better idea," he tells her, reaching for a bowl.
Not long after Labor Day was published, the director Jason Reitman called to say he wanted to make my novel into a movie. And would I teach the actor playing Frank to make the pie? Months passed before I got the news that Kate Winslet had been cast to play Adele, with Josh Brolin in the role of Frank.
When I arrived in Shelburne Falls, Mass., the ingredients for the lesson had all been laid out in a local resident's kitchen: bowls of fresh peaches, flour, sugar, salt. As Frank explains in my book, Crisco makes a flakier crust, but butter gives more flavor. So we had both on hand.
Kate Winslet showed up first, even though she wouldn't be the primary baker in the film; she said she'd never made a pie and wanted to learn how. But my focus that day would be on the man who had to look, onscreen, as if he had complete command of pie crust.
I knew Josh Brolin only from movies where he played the tough guy. But that day, rolling out the dough, he talked about his mother—who'd died young, like mine—and about her baking. You could tell he was a natural the moment he started peeling those peaches, using a straight-blade knife, not a parer, and handling it like a pro.
We made three pies that ­afternoon and ate them on the spot. Josh told me later that he made a pie almost every day that summer—same as I had, so many summers earlier, in my mother's kitchen.
When I saw the movie with my two sons, and we got to the pie scene, my older son grabbed my arm. "That's just how you do it, Mom," he said.
In fact, it's just how my mother did it. This may be why I always cry when I get to that part in the movie. I think of her and I like to imagine that when people come home from seeing Labor Day, they too may feel inspired to bake a pie.