By Gayle Fee
Boston Herald
February 19, 2014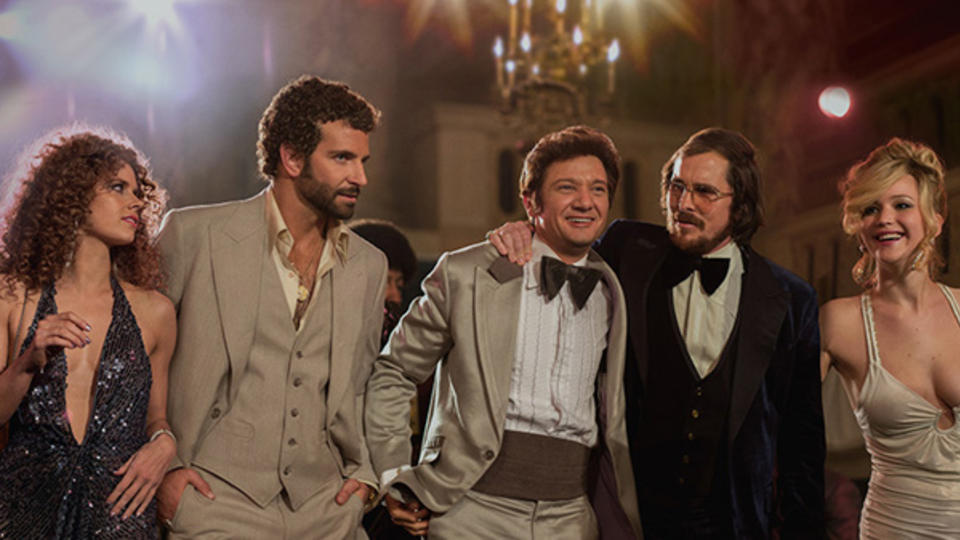 When the Academy Awards are handed out a week from Sunday, "American Hustle" has a shot at being only the second made-in-Boston flick to score the big one: Best Picture.
But David O. Russell's Abscam flick, the prohibitive favorite in the best pic race when it picked up back-to-back Golden Globe and SAG Awards, has seen its fortunes fade over the past few weeks. It is now seen as running behind "12 Years A Slave" and dead even with "Gravity" in the race for the gold guy.
With 10 nominations, "Hustle" has a chance to score in every one of the major categories. Besides the aforementioned Best Picture contest, Christian Bale is nominated for Best Actor, Amy Adams for Best Actress, Russell for Best Director, Bradley Cooper for Best Supporting Actor and Jennifer Lawrence for Best Supporting Actress.
So there should be at least one or two additions to the Hub's Academy Award trophy case when the curtain closes well after midnight Sunday.
But it remains to be seen if Oscar Night 2014 can top 2006, when "The Departed" scored the Best Picture win and Martin Scorsese nabbed his first Best Director statuette.
Unlike "Hustle," which was filmed in Boston but set in New Jersey, "The Departed" was loaded with local color including home-grown stars Matt Damon as a John Connolly-esque cop and Mark Wahlberg, who was nominated for Best Supporting Actor. Not to mention Jack Nicholson who played a rip-roaring version of Southie crime lord Whitey Bulger.
Other locally made flicks have come close to the big one, including 2010's "The Fighter," also directed by Russell and starring Wahlberg as Lowell boxer "Irish" Mickey Ward. Christian Bale and Melissa Leo took home supporting trophies but the film lost out to "The King's Speech." (Also nominated for Best Picture that year was "The Social Network," which was partially shot in Cambridge.)
In 2003, the Clint Eastwood-directed "Mystic River," based on the novel by Boston writer Dennis Lehane, couldn't knock off "The Lord of the Rings: The Return of the King." But Sean Penn and Tim Robbins won in their respective acting categories. In 1999 the made-in-western-Mass. "Cider House Rules" fell to "American Beauty."
But at least local flicks were part of the Oscar conversation. Because until 1997, when two kids from Cambridge made the blockbuster "Good Will Hunting," which scored nine Oscar nominations including Best Picture, Boston films weren't getting regular invites to the Dorothy Chandler Pavilion. "GWH" lost out to "Titanic" that year but Robin Williams won a Best Supporting Actor statue and Matt Damon and Ben Affleck famously took home the Best Screenplay award, launching a decade and a half of nearly non-stop movie-making in the Bay State.
And that, as they say, is a wrap.