By Nicholas Handy
Go Local Worcester.com
May 3, 2014
Production is currently underway for a new Worcester film which will blend a mix of both Hollywood celebrities and emerging local actors and actresses.
The independent film, titled "The Case Against Sam," is a drama starring Khandi Alexander (Scandal and CSI: Miami), Malik Yoba (New York Undercover), Makenzie Vega (The Good Wife). Local television personality, Kayla Harrity, who is best known for her appearances on NESN and Dirty Water TV, is one of many locals to have a role in the movie.
"Every movie that I work on, I try to get a good mix of both Hollywood actors and local talents," said Andrea Ajemian, producer of "The Case Against Sam." "That is part of the reason why enjoy making movies so much; I love giving people an opportunity to shine and make an impact."
"The Case Against Sam" is being directed by Jason Winn, who is best known for directing "The Fat Boy Chronicles," and is about a girl named Sam who is assaulted and tries to bring justice to the situation after no one believes her. The film is currently about half way through filming and has been shot exclusively in the Worcester and Clinton area.
Mixing Hollywood and Worcester
Andrea Ajemian a producer for Aritgo Ajemian Films, has been working with films in the Worcester area for over a decade now, ranging from small commercials all the way up to films with quarter to half of a million dollar budget. Although spending time in Los Angles, Ajemian always seems to come back to Worcester where she was born and raised.
"I am super passionate about Worcester and that is why I keep coming back here to make films," said Ajemian. "I love making movies here and it is really awesome to see that others are starting to catch on to the area as a great place to make a film."
Worcester is a great place to film a movie for a variety of reasons. Tax credits for filming, increased access to parking, and being much cheaper than filming in a major city are just a few of the reasons that makes Worcester a great place for a movie.
"Worcester has this ability to be able to pass as a lot of other cities," said Ajemian. "Worcester really has a lot going for it in terms of being a great place to film a movie. It is just a really easy city to film a movie in."
Ajemian also enjoys working with movies filmed in Worcester because it gives her the ability to tap into the local talent pool. While still bringing in popular actors and actresses to bring traction to the movie, she enjoys using the local talents to show that you don't have to be from Hollywood to make it big.
The talent pool that has been created in Worcester can be a direct result of the wealth of schools in the area. Ajemian also says that due to the smaller community that Worcester possesses offers a chance to work with people multiple times.
"I usually have people start as interns or as extras in films," said Ajemian. "With Worcester being such a small community, I can remember everyone. There are a lot of people that I have worked with who started out with smaller parts and through continually working with me have graduated onto much larger roles which makes it all worth it for me in the end."
A Hotbed for Films
With more and more films make their way to the city for filming, Worcester is certainly becoming a hotbed for the film industry. This increase of film industry popularity has helped to bring something back to Worcester that had been missing for almost a decade: a film festival.
Heading into its second year, The Worcester Film Festival is a blend of showcasing local talent – whether on the production or acting side – and national level films. James Lewis, the festival's founder, created the event not only because of his passion for film, but also because it was something that just needed to be done.
"The past few years I have been doing my homework about the film industry in Worcester," said Lewis. "We have had a lot of really big and successful movies filmed here. One of the first films produced here was a documentary about trolleys in 1919 so I would definitely say that we have a film history here. I started thinking about how we used to have a film festival here and I began to think that we really should have one."
Lewis acknowledges the format of his festival to be slightly different than that of a traditional festival. Rather than having people send in submissions to sift through, he handpicks each of the films that will be playing. And because of last year's success, the festival was able to get some sponsors to help bring in higher profile films to mix with the local level films.
"Last year, I would say that the festival was a 50/50 split," said Lewis, in reference to the mix of local and higher profile films that are featured on the nation festival circuit. "Support has surpassed my expectations; this is definitely something that works in Worcester. Because of having sponsors this year, I have the ability to pay for some more expensive films, but I will still feature the local films."
This year's film festival is set to feature a higher ratio of national films, about 80-percent according to Lewis, which is mostly because he wants to expand the festival into a larger operation.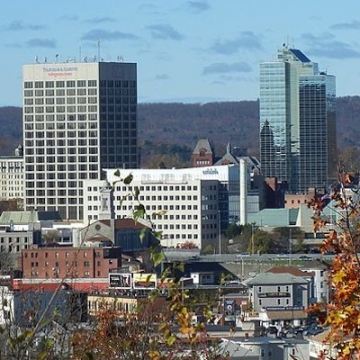 The expansion of the film festival, although still in its infancy, is just one of the many reasons why Worcester could be considered a hotbed for the film industry. While many have already realized the potential that Worcester has in terms of the film industry, Lewis admits that the film scene is something all Worcester residents should support and rally behind.
"Worcester is certainly a hotbed for the film scene," said Lewis. "Worcester is a place known for a lot of history and bad things. I think that the film industry is something that can be a very positive thing for Worcester. I also think that this is something everyone in the city can benefit from; it has the potential to touch the entire city. Worcester has a real chance to define itself here; it just needs to continue to support films."
Massachusetts Growth
While the film industry has grown quite rapidly over the past few years in Worcester, Massachusetts as a whole has also seen a growth. This statewide expansion in the film industry could be attributed to both the success of films like "American Hustle" and also the state's film tax credit program, which offers a 25% production credit, a 25% payroll credit, and a sales tax exemption if the filming meets proper criteria.
Lisa Strout, the director of the Massachusetts Film Office, has seen a large growth in the Massachusetts film industry since 2011, where only nine major productions – which is considered any film with a budget of $250,000 or over – occurred throughout the state. Massachusetts saw 14 major productions in 2012 and saw 21 last year.
"The film industry is definitely growing in Massachusetts, creating more and more jobs for Massachusetts residents," said Strout. "We don't consider each city as having its own industry since crew, actors, and vendors from all over the state are hired. But as you know, Worcester has been used as a location in a number of films."
And while 21 major productions seems like a high number of films for one state, Strout acknowledges that many other types of films are shot and made in Massachusetts. These films range in size and budget and can include documentaries, small budget and independent films, short films, and even commercials.
Having a film come to any city can be very beneficial to both the community and the economy. And with Worcester becoming an alluring location for filmmakers, the film industry could be the fuel needed to be added to the fire to make Worcester's economy great.
"Worcester has a lot of character and a great number of period locations which draw the interest of filmmakers," said Strout. "Film & television productions have unique spending patterns and tend to rent and purchase goods and services from the vicinity in which the production is taking place. As a result the community benefits from the infusion of new money into the local economy. Depending upon the storyline of course, some films create an increase in the exposure of the community which can affect tourism and other visitation."