By Anthony Breznican
Entertainment Weekly
June 11, 2014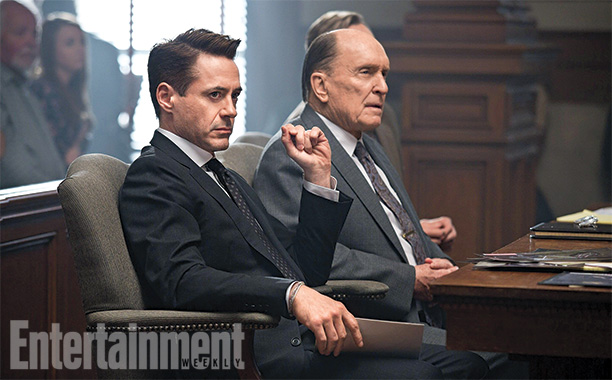 How do you defend someone who never defended you? That's the heart of this thriller/family drama (out Oct. 10) starring Robert Downey Jr. as a Chicago defense attorney who returns to his small town to represent his hostile father (Robert Duvall) in a murder case.
Duvall plays the imperious title character: a living symbol of justice in their community and a tyrant in his own household — factors that compelled his son to flee years before. A family funeral brings Downey's character home, but it's another death that keeps him there.
"Against his own instincts and desire, he ends up staying to defend his dad from what may or may not be an intentional vehicular manslaughter case," Downey says, flashing his eyebrows on those last few words.
"His father is a pillar of the community. Everybody knows a dad like the judge," the actor adds. "Every community has one, and every family has either heard of or been under that kind of patriarchy. It's this very American story. But it's also a story about family, and reconciliation, and law, and justice."
Downey's character doesn't just clash with his father, but also his brutish older brother, played by Vincent D'Onofrio (Full Metal Jacket, Men In Black) — who stands by the old man's side in all matters. Less confident, but no less devoted to the pater familias, is the Fredo-esque youngest brother (Jeremy Strong, Zero Dark Thirty). "He, uh … he still lives at home," Downey explains. "Slow learner."
The film has flashes of humor, but it's definitely more of a dramatic turn for director David Dobkin, best known for Wedding Crashers. And it's the first project from Team Downey, the new production company founded by the actor and his wife, longtime Silver Pictures producer Susan Downey (the Guy Ritchie Sherlock Holmes films, Kiss Kiss Bang Bang).
Team Downey had several films inching forward in development, including a big screen version of Perry Mason, and a drama about the aftermath of the sinking of the USS Indianapolis during World War II. The Judge, with its genre-mixing script by first-time screenwriter Bill Dubuque and Nick Schenk (Gran Torino) was "the greyhound that got its eye on the rabbit first," as the actor puts it.
In her previous role at Silver Pictures, the dedication was to amped-up action pictures. So what kind of brand does Team Downey hope to establish? "If the type is good, that's the brand I'd go for," she says, saying they're looking for the offbeat and heartfelt — though not the ultra-niche or esoteric.
"Our storytelling is character-driven but on a commercial level," Susan says. "We wanted to do something outside the big movie tentpole projects."
So no Iron Man suit — just emotional armor this time.