By Ray Kelly
The Republican
October 6, 2014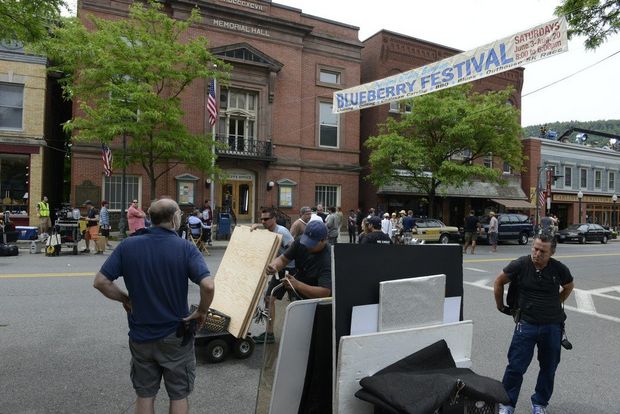 More than a year after filming concluded, folks in Shelburne Falls, Dedham and other Massachusetts towns will finally see how much of their communities – and possibly themselves – made it into "The Judge".
In "The Judge," Robert Downey Jr. plays a hotshot Chicago lawyer, and Academy Award winner Robert Duvall co-stars as his estranged father, a small town judge up on murder charges.
While Downey and Duvall provide the star power, no doubt local movie-goers will notice that the Salmon Falls Gallery in Shelburne Falls serves as the exterior of the Flying Deer Diner, where Downey reconnects with a high school love, played by Vera Farmiga. Norfolk County Court House in Dedham was used for the heated courtroom battles. And Worcester Regional Airport, the former It's About Time Clocks in Millers Falls, and much of Shelburne Falls make up the fictitious Carlinville, Indiana.
Mic Finnerty, 53, of Westfield was among the scores of Bay State extras used in the making of "The Judge."

Finnerty worked four days and took part in a funeral procession, confrontation between the murder victim's mother and suspect, and several downtown scenes.
"It was wonderful. The cast and crew were absolutely fantastic to be around… Just wonderful people," he said.
Finnerty had read about the casting call on MassLive in May 2013. He took a few days vacation from his job as a salesman for Fender to work on the film.
"I hadn't done any film work since the early '80s It was vacation time, so I figured I mind as well," said Finnerty, whose past credits include appearances in Willie Nelson's "Honeysuckle Rose" and the B-movie "Roadie."
No picture taking is allowed on the set, but Finnerty got a chance to briefly talk with both Duvall and Downey during the filming.
"Robert Downey Jr. was the nicest actor I have been around," Finnerty said. "He was a delight to watch in action. He was really, really pleasant with people and giving of his time when he should have been resting."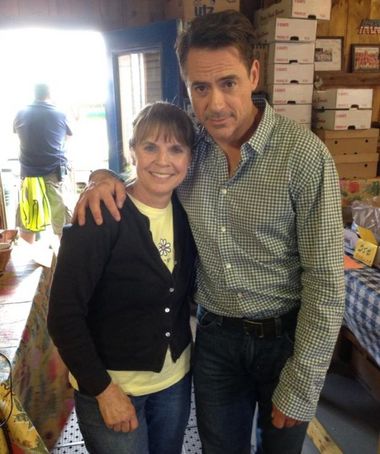 Karen Smiarowski, former owner of Smiarowski Farm Stand in Sunderland, recalls several pleasant chats with Downey when the film crew rented her property to park trucks and equipment in June 2013.
"He's an amazingly kind and considerate actor," Smiarowski recalled. "He was genuinely interested in me, (and) the farm stand… In between scenes he would go an interact with his fans. He really extended himself."
She added, "And not just Robert Downey, the whole crew was wonderful."
Jamie Simpson, 14, of Shelburne Falls was an an extra at a cemetery scene. He was told to speak quietly with his "movie family" as he made his way back to a waiting car. The scene took several hours to shoot.
"Since it was my first scene in a movie, it was pretty awesome," Simpson said. "My friends think it's pretty cool."
Karen Stella of Leominster and her red 1987 Fiero also scored a role in the film.
"There's a scene where Downey's character was zooming into town, taking a left on Bridge Street.. We did 13 takes, since I was supposed to have been cut off. I was either going too slow, or his vehicle was going too fast,' she recalled.
Stella added, "The next day I was an extra when all the main characters were walking out of the courthouse about to get into their SUV. The mother of the son being sentenced … makes a major scene in the street. I was on the same side of the street she was and was right in camera shot. Again, it was so much fun and I'm counting the days to see it!"
Finnerty, like Stella, is eager catch the film's opening, hoping he made it into the final cut.
"The director of photography told me when he looked in the frame he kept seeing me," Finnerty said.