By Diane Broncaccio
The Recorder
May 1, 2015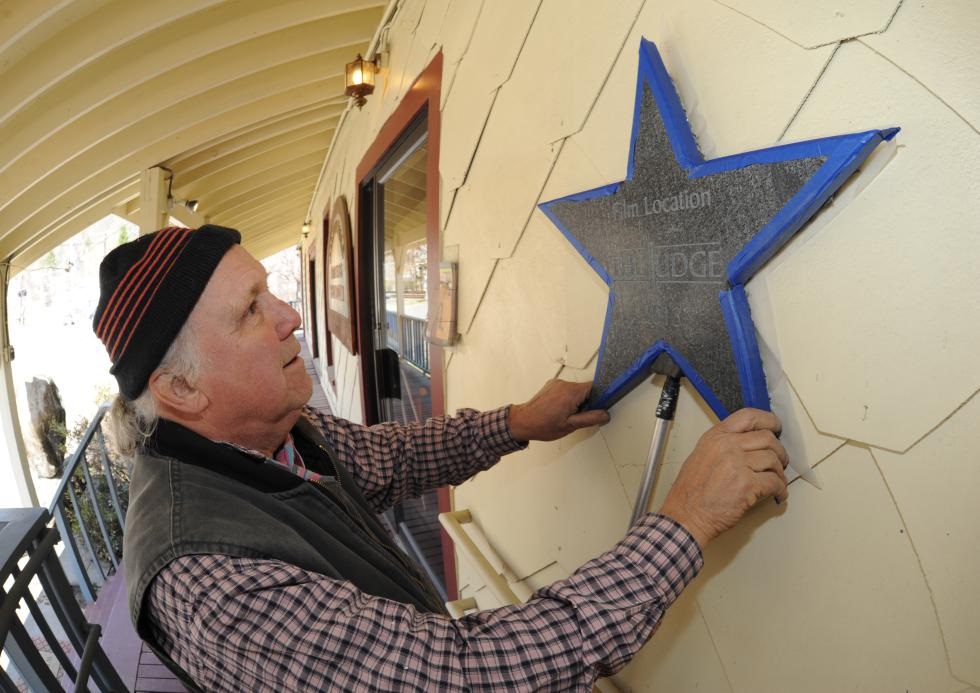 SHELBURNE FALLS — Hollywood visitors Kate Winslet, Robert Downey Jr. and Robert Duvall are just a memory, but now you can easily find some local buildings where scenes from the movies "Labor Day" and "The Judge" were filmed.
With a $5,800 grant from the Massachusetts Film Office, the Greater Shelburne Falls Area Business Association and Ashfield Stone created one of the first Film Tourism Programs in the state, according to business association executive director Mary Vilbon. Seven slate stars are now mounted on village buildings that had cameo roles in either film. Also, the business association has added a page on its tourism website, ShelburneFalls.com, that gives information about each production and a walking tour map to download.
"Hollywood's Walk of Fame was a bit of an inspiration," says Vilbon. "We wanted to celebrate the fact that two major productions, 'Labor Day' (2012) and 'The Judge' (2013) were filmed in Shelburne Falls, supporting local businesses, bringing visitors to the village, and putting the beauty and wonder of West County onto the big screen."
Owner Johanna Pratt of Ashfield Stone donated the handmade stars that were designed by stone craftsman Brandon Osman. She said each star is made of local Ashfield schist, which was cut and polished. Carriage House Designs of Turners Falls engraved and installed the stars.
"Each star is just a little bit different and we customized the installation, depending on the building surface," said Jack Nelson of Carriage House.
The stars are mounted on the following buildings: Salmon Falls Gallery (exterior setting for The Flying Deer Diner in "The Judge"), Greenfield Savings Bank ("Labor Day"), Baker Pharmacy ("The Judge"), Keystone Market ("Labor Day"), Memorial Hall ("The Judge"), former Singley Furniture ("The Judge") and former Mole Hollow Candle building (interior of Flying Deer Diner for "The Judge").
A video showing both scenes from the movies and photos of the behind-the-scenes filming will be running at the Shelburne Falls Village Information Center on Bridge Street. Also, "The Judge" will be playing again at Pothole Pictures, Memorial Hall, on May 29 and 30 at 7:30 p.m. (Movie tickets are $6 each.)
For more information, go to: www.shelburnefalls.com
You can reach Diane Broncaccio at: dbroncaccio@recorder.com or 413-772-0261, ext. 277