CBS Boston
January 6, 2016
BOSTON (CBS) — Casey Sherman, co-author of the 2009 best-seller "The Finest Hours," spent a lot of time on-set while his book was being made into a Disney film. But the author (and former WBZ-TV producer) said the best moment was being there when one of the original heroes depicted in the film visit the set for the first time, and watching him take it all in.
"There wasn't a dry eye in the studio that day," Sherman said.
"The Finest Hours" tells the story of four young Coast Guardsmen on a daring rescue mission off of Chatham during a deadly nor'easter in the winter of 1952. Part of it was filmed at the Chatham Coast Guard Station. It takes place before technology enhanced seamanship, and Sherman said the rescue was seen as a suicide mission.
"The unwritten motto of the coast guard back then was, 'you have to go out, but you don't have to come back,' but these men performed the rescue of a lifetime," said Sherman. "Very simply, it's a story about faith."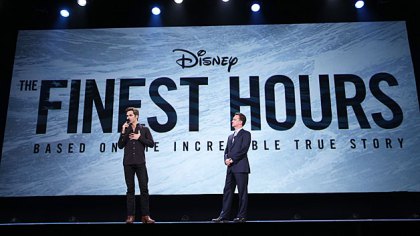 Sherman said it's also a quintessential New England story.
"'The Finest Hours' is a valentine to how we grew up in New England, and how we live here in New England," Sherman said. "Because we all understand the debt that the sea must take, but we also understand the bounty that the sea brings us, so there's that yin and yang in the relationship."
The fact that the filmmakers had also adapted another New England story–"The Fighter," the story of boxer Mickey Ward's life, starring Christian Bale and Mark Wahlberg–made Sherman more at ease about them adapting "The Finest Hours." He said many of the people working on the film were from New England, and felt the responsibility to tell the story the right way.
But back when Sherman and co-author Mike Tougais spoke with some of the men who were part of the rescue for their book, they found out that their story was mostly unknown.
"We were able to find three of the four heroes that performed this rescue, and these men never wanted this story told," said Sherman. "They actually never told their wives, never told their families what they had gone through back then. When we wrote it and then they read it, they teared up when they were talking to us and they said, 'there is a story here,' and we told these heroes, we said, 'you are the story.' And to be able to tell that story now, in 80 countries around the world, is such a treasure."
"The Finest Hours" is out in theaters January 29, and stars Chris Pine, Casey Affleck, and Eric Bana.