By Scott J. Croteau
Masslive.com
April 6, 2017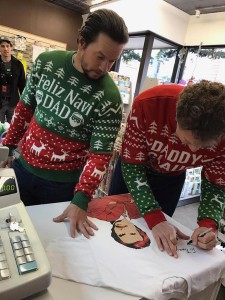 Wearing a couple of pretty hideous Christmas sweaters, movie stars Will Ferrell and Mark Wahlberg spent some time filming inside a Concord, Massachusetts candy shop Wednesday.
Another star, Mel Gibson, was also right outside the Priscilla Candy Shop on Walden Street.
The famous faces were in Concord as Ferrell and Wahlberg filmed a scene from their new movie, "Daddy's Home 2". The duo – Gibson didn't go inside the shop – made an impression on storeowner Maureen Gallant, who admitted Ferrell is her favorite of the group.
"Will Ferrell to me is like the ultimate," Gallant said. "He's not the big, handsome, sexy guy, but if you meet him, he is a true gentleman. I just admire him."
Being a candy shop, Gallant and her crew weren't going to let the movie stars leave without them trying some of the sweet treats. Wahlberg passed on candy, but Ferrell tried a dark chocolate peanut butter cup.

Wahlberg did reminisce about a candy shop he used to visit in Dorchester as a child.
The actors chatted with employees in the store. Ferrell took the time to sign and write a message on a shirt for the husband of one of the store employees.
The husband is a big fan of "Anchorman: The Legend of Ron Burgundy". The shirt was a picture of Burgundy.
"He wrote a funny, long message," Gallant said. "He's just a funny, warm guy. They were both very approachable and very friendly."
Three weeks ago a production crew asked if the movie could be filmed in the store, which has been in Concord for 32 years. On Wednesday, the crew showed up and created a Christmas storefront at the candy shop. The movie is set around Christmas time.
Gallant said the store had to take down the Easter displays, but the production company paid them for the work.
"It took about three hours for them to do a two-minute shoot," she said. "It was a quick scene in the store. They did some shopping and they walked out."
Part of the scene is the two actors bumping into Gibson's character outside, Gallant said.
Some customers were inside the store during filming. Gallant, who also owns a shop in Gardner, is hoping the actors come back as they do more filming in Concord.
"Hopefully they are coming back," she said.
Wahlberg also put out a message on Twitter showing that he had a special guest at the set recently. Devin Suau, the 6-year-old Framingham boy who was diagnosed with an inoperable brain tumor, and his family joined the movie stars on set.