By Jill Harmacinski
Eagle Tribune
April 12, 2017
City's reputation as a film location grows
LAWRENCE – Terence Pennington usually arrives for work in a dark blue uniform with a badge and gun. But Tuesday, the Lawrence police officer — despite 80 degree sunshine – wore jeans, a winter coat and a knit cap.
Producers said they liked Pennington's "look" and he was cast as a "thug" in the movie "Proud Mary," the latest movie being filmed in Lawrence.
Just after noon Tuesday, Pennington stood next to actor Danny Glover behind 60 Island St. where filming was picking up for the day.
Several dozen gathered behind the red brick buildings, while equipment and canteen trucks and police detail officers lined Island Street. Glover embraced several crew members and then sat in the chair outside a door the building reading paperwork.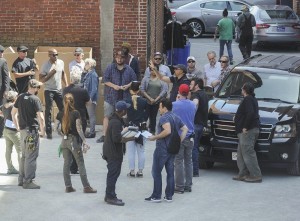 While Glover was in Lawrence and visible on the set, "Proud Mary" will also feature actress Taraji Henson of "Empire" fame and Billy Brown, a headliner on "How to Get Away With Murder," officials said.
Directed by Babak Najafi, the film is set for release in January 2018.
Henson is set to play an assassin who meets a young boy that sparks her maternal instinct, according to movie previews.
Filming of various scenes for the movie will take place over the next couple of weeks at a variety of locations in downtown Lawrence, said Abel Vargas, the city's business development director.
Production crews have continually descended on the city since the fall 2015, when actor Ben Affleck came to Lawrence and used a variety of downtown settings and buildings to film "Live By Night."
That movie was based a novel of the same name by Dennis Lehane, who is from Dorchester.
Affleck, who lived at one time in Cambridge, was the movie's main character, Joe Coughlin, the son of a Boston police captain who became an outlaw in 1926.
Vargas said the word is spreading about Lawrence's availability for the silver screen.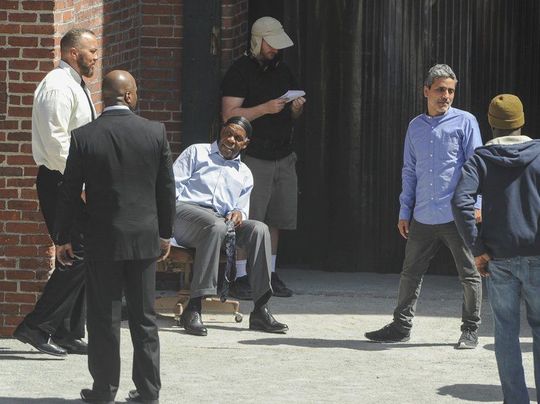 "We've built a reputation in the film industry. They like working in Lawrence and we have a lot of areas here worth capturing," Vargas said.
Also this spring, one of the old Showcase Cinemas off Route 114 in Lawrence will be used for filming the movie "Daddy's Home 2," with Will Ferrell and Mark Wahlberg. Actors Mel Gibson and John Lithgow may also have prominent roles in the film.
A casting call for that movie was held in Haverhill in March. "Daddy's Home 2" is set for release in November 2017.
Last summer, downtown Lawrence was also the backdrop for a movie set in Detroit 1967.
A Netflix heist thriller "Wheelman" was also shot in the city last fall. The old AAA building on Parker Street was used to film a bank robbery. A driving chase scene was also filmed on Methuen Street.